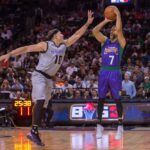 Mahmoud Abdul-Rauf is once again making headlines for his extraordinary basketball skills. Playing in Ice Cube's Big 3 basketball league the 49-year-old has simply been electrifying, producing game winning jumpers, great passing and breathtaking shotmaking.
Abdul-Rauf was a prolific scorer during his college days at LSU, and a solid point guard in the NBA during his eight-year career, after being drafted with the No. 3 overall pick of 1990 NBA draft by Denver.
However, what Abdul-Rauf will be remembered by most isn't his laser quick jumper, or his killer cross-over. Abdul-Rauf's legacy is his decision in 1996 to not take part in the playing of the national anthem.
It was his way of protesting the conditions of poor people and people of color in America. It was a move that many people feel cost him his career as a player in the National Basketball Association, just as it has cost Colin Kaepernick his NFL career.
In a wide-ranging interview with Michael Roberson and Rickey Hampton of TheAfricanAmericanAthlete.com, conducted on April 4th, Rauf discussed growing up in Mississippi, his 'mis-education' in public schools, finding Islam, LSU, the NBA, his anthem prayer, and disagreements, and finally the plot to get him out of the NBA. 
Comments
comments