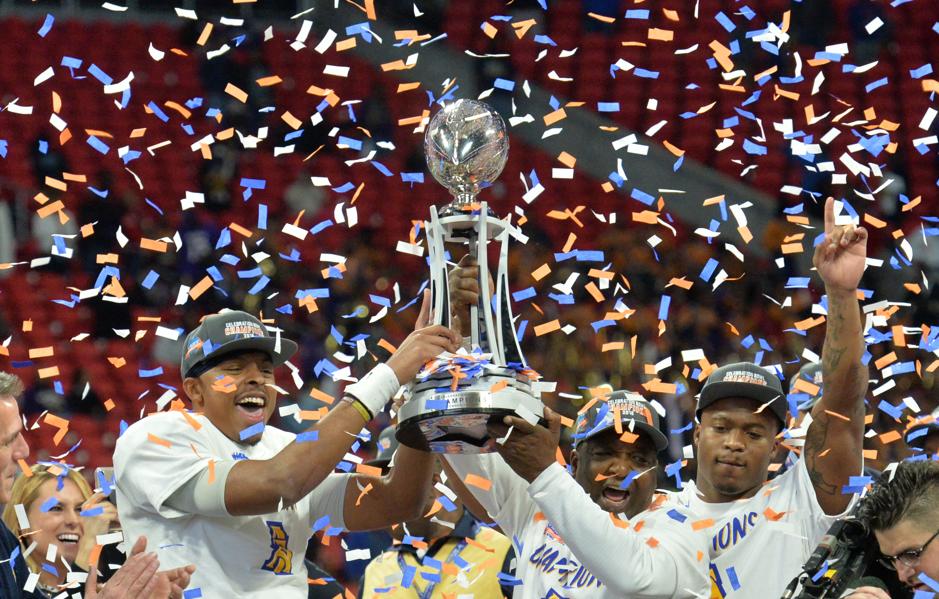 By Roscoe Nance, For TheAfricanAmericanAthlete,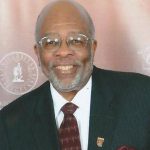 North Carolina A&T State and Alcorn State brought the curtain down on the 2018 Black College football season with an epic battle in the 4th Celebration. North Carolina A&T eked out a 24-22 victory a well-played, hard-fought contest and claimed its second consecutive Black College National Championship.
Now it's time to look back on the season's highlights and lowlights and recognize some of the outstanding individual and team performances.
And the winners are:
TOP GUN AWARD
Amir Hall, QB, Bowie State – Hall, the reigning Black College Player of the Year and a finalist for the 2018 award, continued his assault on the record books. He threw for 4,152 yards – tops in Division II – and 31 touchdowns while leading the Bulldogs to their first CIAA championship and their second consecutive playoff berth, He also led Division II with 4,597 yards total offense and was No. 2 with 353.6 total yards per game. Along the way, he became the CIAA's all-time career passing touchdown leader (102) and all-time career passing yards leader (11,358). Hall was also a finalist for the Harlon Hill Award, which goes to the Division II Player of the Year)
COACH OF THE YEAR AWARD
Sam Washington, North Carolina A&T State – Washington had some big shoes to fill after taking over for Rod Broadway, who retired after leading the Aggies to an unbeaten season in 2017that included a win the Celebration Bowl as they won the MEAC and Black College national championships. Washington filled Broadway's shoes nicely by leading the Aggies to a 9-2 record while beating FCS power Jacksonville State and FBS member East Carolina along the way and repeating as MEAC champs.
FIREMAN OF THE YEAR AWARD
Ladarius Skelton, QB, Southern – Skelton saved the Jaguars' season – not to mention Coach Dawson Odums as well in all likelihood – after they started the season 2-3. The sophomore from Pine Bluff, Ark., took over from John Lampley following the Jags' humiliating 20-3 Homecoming loss to Alcorn State, and he led the Jags to five straight wins, including their first victory Bayou Classic victory against Grambling State in three years, and a berth in the SWAC Championship Game where they lost to Alcorn.
LIVING LEGENDS AWARDS
Rod Broadway, Marino "The Godfather'' Casem, Archie "Gunslinger'' Cooley, Bill Hayes and Willie Jeffries – This quintet of Black College coaches was honored during ESPN's College Football Awards Show on Dec. 7, which featured a segment recognizing the contributions HBCUs have made to football.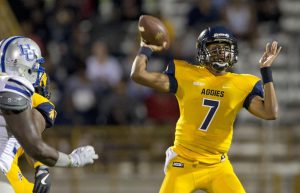 FIELD GENERAL AWARD
Lamar Raynard, QB, North Carolina A&T State – Raynard completed his career with a 35-2 record as the Aggies' starting quarterback. He guided A&T to back-to-back Celebration Bowl wins and Black College National Championships. Raynard had an injury-plagued 2018 season as he had to overcome kidney stones, a groin injury and a concussion. He ended his career by completing 18 of 30 passes for 292 yards and two touchdowns while being named Celebration Bowl MVP.
STORM CHASERS AWARD
Tennessee State – The weather was a surprise opponent of the Tigers' 2018 schedule. After opening the season with a resounding 34-3 home victory over Bethune-
Cookman, the Big Blue lost back-to-back contests to Ol' Man Weather en route to a disappointing 4-5 record. Tennessee State had its annual clash with Jackson State in the Southern Heritage Classic in Memphis, Tenn., on Sept. 8 canceled due to lightning after it was delayed for more than three hours. The following week Hurricane Florence KO'd Tennessee State's game at Hampton.
BEST ENCORE PERFORMANCE AWARD
Caylin Newton, QB, Howard – Newton was the 2018 MEAC Offensive Player of the Year after finishing No. 1 in the FCS in yards per completion (16.85), No. 7 in total offense (313.3 yards per game), No. 15 in passing yards per game (262.9). That was a follow up to Newton's 2017 performance that saw him named MEAC Rookie of the Year while passing for 221.1 yards a game and averaging 320.7 total yards a game.
SUGAR FOOT AWARD
Vincente Pena, PK, Lane College – Pena nailed three field goals, including a 39-yarder that won the game, as the Dragons beat eventual SIAC champion Miles 15-14. Pena hadn't made a field goal in the six games Lane played prior to the Miles games. He was 3-for-4 against the Bears and 4-for-11 for the season.
UPSET SPECIAL AWARD
Morgan State Bears – Morgan State, picked to finish ninth in the 10-team MEAC championship race by the conference's coaches and Sports Information Directors, knocked off defending Black College champion and reigning MEAC champ North Carolina A&T, the preseason pick to repeat, 16-13. Alex Raya kicked a 36-yard field goal as time expired for the winning points. It was the first win of the season for the Bears, who lost their final five games of the 2017 season and started 2018 with three straight losses, and it ended the Aggies' 15-game winning streak, the longest in FCS at the time. It also snapped North Carolina A&T's streak of 39 consecutive wins when leading after three quarters.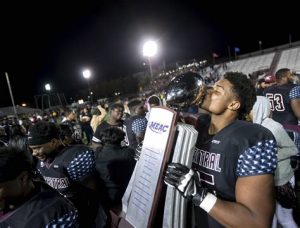 DOING GOOD IN THE NEIGHBORHOOD AWARD
Nick Leverett, Offensive Tackle, North Carolina Central – Leverett is among 22 athletes across all levels of college football named to the 2018 All-State AFCA Good Works Team for their community service efforts. Leverett's community service includes speaking to elementary school students in Chapel Hill, N.C., about character building, collecting toiletries for gift pack that were donated to the Rescue Mission in Durham, N.C., participating Feed-A-Family Thanksgiving that benefited the less fortunate, volunteering with Habitat For Humanity to build houses and collecting backpacks and other school supplies through his fraternity, Omega Psi Phi Inc., to donate to elementary school students at the start of the school year. Leverett is the athlete from an HBCU chosen to the Good Works Team.
EACH ONE TEACH ONE AWARD
Julius Reynolds, LB North Carolina A&T State – Reynolds earned a Bachelors Degree in biology (pre-med), and he doubled as a Graduate Assistant Teacher in the Biology Department while playing his senior season. Reynolds will attend medical school next year.
INVISIBLE MAN OF THE YEAR AWARD
Taeyler Porter, RB, Arkansas-Pine –Porter went virtually unnoticed as he led the SWAC in rushing with 1,220 yards, a 5.4 yards per carry average and nine touchdowns. It was easy to overlook Porter's performance because of the Golden Lions' poor showing in 2018. Their 2-9 record and they were on the wrong side of some embarrassing blowouts. They lost to South Dakota State 90-6, Prairie View A&M 62-13 and Florida International 55-9 on back-to-back-to-back weekends,
COMEBACK TEAM OF THE YEAR AWARD
Miles College – The Golden Bears rebounded from a 0-5 start to win the SIAC championship. Three of those five losses were by a combined total of 10. Miles rebounded to win four of their final five contests while scoring the winning points in the final minute to capture the SIAC West crown. The Bears knocked off Albany State, which had beaten them 30-24 in a regular season matchup and became conference champs despite a 5-6 overall record.
SECOND HALF SWOON AWARD
Tuskegee University – The Golden Tigers have won more games than any other Black College program with 691 victories all-time. But they had a hard time even begging a win, and Tuskegee stumbled to a 5-5 record – thanks in large part to the Golden Tigers' inability to protect leads. They had second-half leads in four of their five losses. Additionally, two of their losses were in overtime. Their 5-5 record marked just the second time Coach Willie Slater's 13 seasons that the Golden Tigers won fewer than eight games. It would have been a completely different story had Tuskegee been able to protect leads.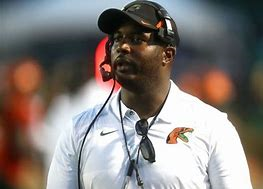 MOST IMPROVED TEAM AWARD
Florida A&M A&M Rattlers – Florida A&M had its first winning season since 2011 with a 6-5 record in Willie Simmons's first season as coach, and their 5-2 MEAC record was good enough to tie Bethune-Cookman for second place in the conference. The Rattlers were 8-25 for the three seasons prior to Simmons taking over. Their five-game winning streak after they suffered consecutive losses to Troy and Jackson State was their longest since 1999.
IRON TOE AWARD
Corey McCullough, PK, Alcorn State – The usually dependable McCullough missed six of seven field goal attempts in the Braves' 28-25 five-overtime Homecoming loss to Alabama State. McCullough, who was 16-for-19 in games other than that debacle, missed a 28-yarder at the end of regulation that would have won the game. He also missed a 39-yarder on Alcorn's first possession in the first overtime period.
FADING TO THE FINISH AWARD
Morehouse College – Simply put, the Maroon Tigers crashed and burned down the stretch after starting the season 6-0 and appearing to be a lock to win the SIAC East title and secure a Division II playoff berth. However, things went terribly wrong in their final four games. The Maroon Tigers lost three of their last four contests, including a 30-13 thumping by Clark Atlanta, their much-hated backyard neighbor in the Atlanta University Complex.
COAST TO COAST AWARD
Malik Wilson, WR, North Carolina A&T State – Wilson returned four kickoffs for touchdowns in 2018, including a 79-yarder in the Aggies' Celebration Bowl win against Alcorn State, to lead the FCS. Wilson's 34.3 yards per return average was third-best in the FCS.
FEAST OR FAMINE AWARD
Prairie View A&M Panthers – Prairie View ended the season with a 5-6 record despite scoring 30 or more points six times, topping the 60-point mark three times and averaging a SWAC-best 33.5 points a game. However, the Panthers' defense gave up points almost as fast as the offense could score them. Opponents put up 30 more points four times and averaged 27.0 points a game.
BOTTOM OF THE CLASS AWARD
Kentucky State Thorobreds – Kentucky State was the only winless team in Black College football with an imperfect 0-10 record. Thorobreds' closest brush with a victory was a 24-21 Homecoming loss to Miles. The Golden Bears scored the winning points on a 17-yard touchdown pass with three seconds remaining in the game. They drove 78 yards in seven plays after Kentucky State had taken the lead with 62 seconds showing on the clock. The Thorobreds average margin of defeat was 15.1 points a game
UNDER THE RADAR AWARD
Tabyus Taylor, RB, Virginia Union – Taylor was virtually unnoticed in the CIAA while Bowie State record-setting quarterback Amir Hall hogged the headlines. Taylor led Black College rushers with 1,546 yards and 21 touchdowns, and he was the No. 8 leading rusher in Division II. He topped the 100-yard mark eight times in 10 games. Taylor surpassed the 200yard barrier twice with single-game best of 235 yards against Lincoln (Pa.). His 154.6 yards per game average was No. 4 in Division II.
UNHAPPY TRAILS TO YOU AWARD
Ernest T. Jones, Coach (interim), Morgan State; Granville Eastman, Coach (interim) North Carolina Central; Tony Hughes, Coach, Jackson State; Erik Raeburn, Savannah State; Michael Haywood, Texas Southern, John L. Smith, Coach, Kentucky State: This Gang of Six was shown the door after compiling a cumulative 25-42 record in 2018. Hughes led off the parade which Jackson State gave him his pink slip seven games into the season with the Tigers sporting a 3-4 record. Defensive coordinator replaced Hughes on an interim basis and guided them two victories and one loss for the remainder of the season. Jackson State was a win away from reaching the SWAC Championship Game…. Eastman and Jones, both interim coaches and their respective 5-6 and 4-7 records weren't good enough to keep them around. North Carolina Central hired alumnus Trei Oliver, most recently defensive coordinator at Southern, to replace Eastman…. Haywood resigned after posting an underwhelming 8-25 record in three seasons, which likely have gotten him canned anyway. Houston native Clarence McKinney, an ultra-successful prep coach at Jack Yates High School which located across the street from Texas Southern before becoming a college assistant, replaces Haywood….Savannah State handed Raeburn his walking papers because he "was not meeting program expectations.'' The Tigers, who haven't had a winning season since 1998 when they were a Division II program playing in the SIAC, were 8-23 in Raeburn's three seasons. Savannah State is 24-149 since moving to Division I in 2000 and is returning to Division II and the SIAC in 2019. … Kentucky State said adios to Smith after the Thorobreds completed the season with an underwhelming 0-10 record. Kentucky State was 7-25 in three seasons under Smith, who guided the Thorobreds to the 2016 SIAC West Division championship with a 4-7 record. They lost to Fort Valley in the conference championship game. Smith previously coach Division I programs Louisville, Michigan State, and Arkansas.
HAIL AND FAREWELL AWARD
Mike London, Coach, Howard University: London resigned after two seasons and took the William & Mary head job. He guided the Bison to a 12-10 during his tenure, including a 7-4 mark in 2017. The high mark of London's days at Howard was the Bison's 43-40 victory over Nevada-Las Vegas in the 2017 season opener. The Associated Press called it biggest upset ever in a college game with a point spread. Howard won three games during the two seasons prior to London's arrival. London, a Hampton, Va., native, will be near his ailing father in his new job. Former Kansas State coach Ron Prince, who was 17-20 in three seasons leading the Wildcats, will replace London.
Comments
comments