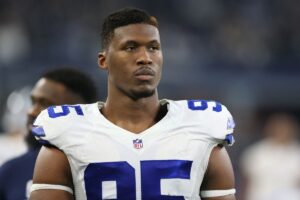 Suddenly,  the Dallas Cowboys-San Francisco 49ers game on Sunday has some added importance.
Cowboys' defensive lineman David Irving said he plans some form of demonstration during the national anthem, but he is not saying exactly what he will do. At an Oct. 8 game Irving raised his fist during the anthem.
"I have made the call," Irving told the Fort-Worth Star Telegram. "You'll have to wait till Sunday."
Of course, any so-called 'disrespectful' demonstration during the anthem will go against Cowboys' owner Jerry Jones' controversial directive.  He said he will bench any player who disrespects the flag.
"If there is anything disrespecting the flag, then we will not play," Jones said. "Period. We're going to respect the flag and I'm going to create the perception of it." 
Ironically, it was recently noted that in 1989 Jones  sat in a golf cart with actress Elizabeth Taylor during the playing of the national anthem at the Cowboys-Redskins game.
Comments
comments