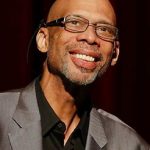 Kareem Abdul-Jabbar is one of the greatest players in the history of basketball. Since his retirement in 1989, after 19 seasons, six NBA titles, and all kinds of records including the most points (38,387), Jabbar has become one of the most important voices in America on social justice and race.
Jabbar, 71, is a prolific writer and scholar, has used his platform to speak out on issues in columns for Time magazine, as well as several books. One of his latest pieces appears in the Guardian regarding the NFL anthem controversy.
The Hall-of-Fame center writes: "Why aren't you NFL owners outraged by that? If it were white people suffering those same statistics, you wouldn't even play the national anthem. Then again, you wouldn't have had the opportunity to become owners in the first place." To say the least, the Big Fella delivers a slam dunk. Click to read the entire essay.
Comments
comments