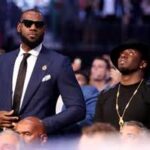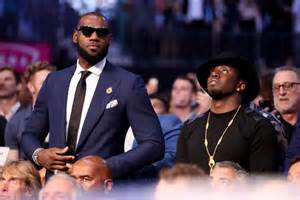 By Tim Turner, For TheAfricanAmericanAthlete.com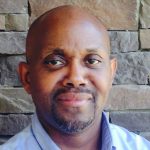 Will A Decision in Game 1 of the NBA Finals lead to another The Decision for the Cleveland Cavaliers' LeBron James? He's not saying directly if that will have any bearing on where he plays next season, but it will be a consideration.
Though not saying specifically he would leave he has expressed a desire to be surrounded by better talent and smarter players. That latter requirement may scratch the Cavs off the list. And Game 1 set the massively stage for the speculation. That game was there for the taking, but the Cavs were not smart enough to win it.
J.R. Smith's unconscionable lapse in game awareness was gutting for Cleveland on the court. His sprint away from his basket with the rebound to run out the clock in regulation, played out right in front of a visibly stunned James. With his team still in shock over than boner, that lapse essentially gift wrapped a win for Golden State on the way to the Warriors sweeping their way to a second straight title.
Throughout the Finals, the Warriors made smarter plays. The better pass. The keener situational awareness. That wasn't always evident with anyone in a Cavs uniform but James. Except after Game 1, when his frustration with how they lost, got the best of him to the point that he drove his right hand into a locker room white board and severely injured it the rest of the way.
He also said talent would be a factor. They were not as talented as Golden State, but Kobe Bryant, a former NBA champion, opined that James had enough to work with to win.
Speaking to a British publication, Bryant noted that the Cavs had a great shooter in Kyle Korver, and that (outside of the Game 1 brain cramp) Smith is a solid player and has helped Cleveland win a title already. He added that Kevin Love, is an All-Star and the essentially forgotten man in the Finals' first two games — Rodney Hood — is a legitimate double-digit scorer. Plus, Tristan Thompson had picked up his game.
"He's got some workable pieces there," Bryant said. "I don't understand how, in order to talk about how great LeBron is we need to [expletive] on everybody else. That's not O.K. Those guys have talent.
"I don't buy this whole thing that he's playing with a bunch of garbage."
That's strong and worthy taking to heart — if you're not LeBron James. That this team even made the Finals was a monumental achievement due largely to the supreme efforts of James. And only the Cavs held out any hope they would beat either Houston or Golden State. He does need help. He had it in Miami with Dwyane Wade and Chris Bosh, and he had Kyrie Irving and Love in Cleveland. There are plenty of options out there for him when he becomes a free agent June 29.
A reunion with Irving in Boston, or with Wade in Miami? Getting Toronto over the hump? Or Washington? And he could look west where Houston would in near invincible, or head to Los Angeles, or — heaven forbid — join forces with Golden State.
Might he — after consulting family, which is at different life stage when kids were younger when The Decision was made before, and when he returned to The Land — just stay home and hope the front office puts together the pieces for a legitimate title team? Will that be a realistic enough factor for him to sign potentially a five-year, $205 million deal with Cleveland (the most anybody could offer him)? Or take less and go for more rings?
Only James knows the answer. As for the rest of us who are watching this play out, it will be an interesting few weeks.
Comments
comments