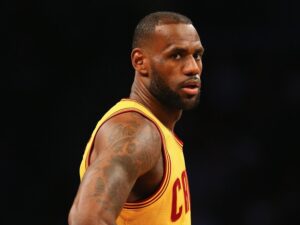 By Maury Jackson, For The African-American Athlete
Trump/Clinton. Pepsi/Coke. West Coast/East Coast.
These are examples of things that have divided society into two separate corners in recent  times. Race, politics, religion, and ideologies all contribute to unique individuals in the world. Debate is always good for the stimulation, and consideration of other people's beliefs and opinions. With that can promote a divided society in many situations. One area that promotes this division within society is sports, particularly in the current basketball world.
The 2017 NBA Finals recently got interesting with the Game 4 win of the Cleveland Cavaliers. The majority of fans are either rooting for the Warriors or the Cavs. Not only did they avoid the sweep, but broke numerous records in the process.
Most points in a finals quarter, most points in a finals half, most 3-pointers in a Finals game, etc. Before, and after the outcome, one thing remains the same, the like or dislike of LeBron James continues to divide America.
There are numerous superstars and polarizing figures in these Finals. Kyrie Irving, Steph Curry, Draymond Green, Kevin Love, Tristan Thompson, Khloe Kardashian _ yes, Khloe _  and Kevin Durant. Many disliked Durant's move to the Warriors, but everyone has come to terms with the fact that he is there to stay, along with Golden State's domination.
Of course, perhaps the most polarizing, controversial athlete of all-time, LeBron James, continues to be the root of all discussion and debate.
Sure, Durant being on a Finals team has certainly put him in the spotlight a lot more. With some considering him the next, or even new, best player, he has been a main topic in these finals. Yet and still, there's no debate as to who is the center of attention again for a seventh consecutive  NBA finals:
LeBron James.
The impact James has made on the NBA has sparked so much discussion over the years. Why did he go to Miami? Is he greater than Jordan? If he loses another final, does that diminish his legacy? With the likes of social media and the numerous sports talk shows out there, James has seemingly divided the world into either rooting for him or against him.
It is hard to argue that LeBron is not an all-time great. But those who despise him and those who admire him have divided people in many ways.
It is amazing to even think: 49% who go all out for him, 49% who wish for his downfalls, and the 2% who are split right down the middle.
It is almost like you have to choose to either be with, or against him.
People should not have to consider him in the GOAT discussion, and be bashed for that if they disagree. Just like people should not have to hate and pray for every downfall of his career. When a man averaging 30 points, 10 rebounds, and 10 assists in the NBA finals against a former 73-9 team with two  MVPs receive so much hate for his team losing, it just seems kinda silly.
For those of you who block all of the "Warrior fans" on your timeline, you are only contributing to the separation. The same goes for those who argue and dismiss every positive thing that LeBron fans say on social media. Instead of continuously comparing 32-year-old LeBron James to the likes of Michael Jordan and Kobe Bryant, how about we appreciate the greatness we are currently watching?
Whether a fan or not, society will continue to be divided no matter the outcome of this year's finals, or perhaps the remainder of LeBron James' career.
Comments
comments