Notice
: Undefined offset: 1 in
/var/www/wp-content/themes/jnews/class/ContentTag.php
on line
86
Notice
: Undefined offset: 1 in
/var/www/wp-content/themes/jnews/class/ContentTag.php
on line
86
---
---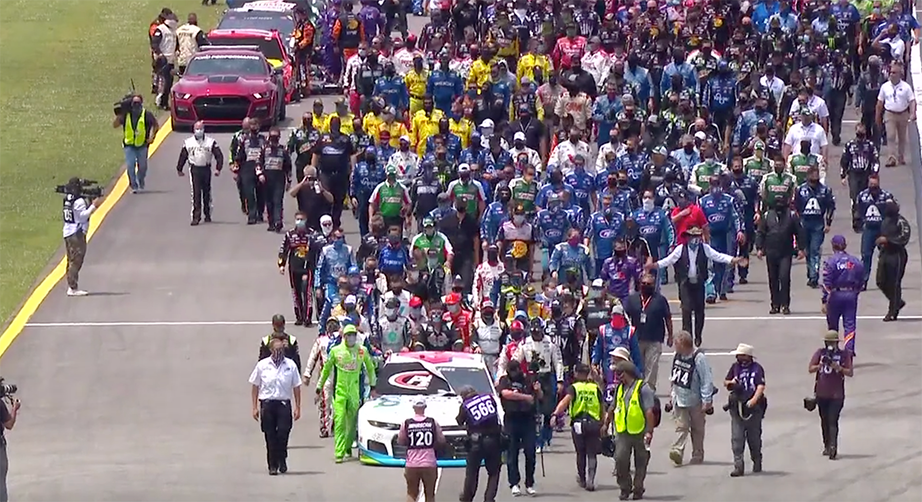 Rickey Hampton, For TheAfricanAmericanAthlete.com
It was only a matter of time before NASCAR driver Bubba Wallace was going to hear from the racists. These ignorant bigots, who stupidly believe America was great during the eras when slavery, Jim Crow, and segregation ruled, would rear their ugly heads after Wallace bravely took a stand for justice and equality for all people.
Following the murder of George Floyd in Minneapolis and the national protests that followed, Wallace had 'Black Lives Matters' painted on his car, and donned a tee-shirt saying "I can't breathe."' Of course, "I can't breathe" are the fateful words Floyd pleaded to police. Six years ago Eric Garner said the same thing to police in New York before he died at their hands.

Wallace is NASCAR's only full-time black driver, and he urged NACAR to ban Confederate flags from flying at races, which is an infamous part of its tradition.  NASCAR obliged Wallace's request, officially banning the Confederate flag from race venues.
And now, the pushback has started.
Sunday in Talladega, Ala., a noose was found in Wallace's garage stall where his No. 43 car is kept. Of course, a noose is a symbol of a time where white people lynched black people regularly.
"Today's despicable act of racism and hatred leaves me incredibly saddened and serves as a painful reminder of how much further we have to go as a society, and how persistent we must be in the fight against racism," said Wallace in a statement.
No one should be surprised by the planting of the noose. While NASCAR on a corporate level is making bold steps towards inclusivity, its past is steeped in racism, discrimination, and segregation.
NASCAR was born and bred in the South and raced in towns like Talladega, Winston-Salem, N.C., Bristol, Tenn., Richmond, Va., Darlington, and S.C. Daytona, Fla., to name a few.  These cities are home to far too many Trump-loving, racists, who wish for nothing more than to take the country back to 1950.
These racists are so afraid that black people, and people of color, or going to take over their world. These people want Wallace to shut up and drive, LeBron James to shut up and dribble, and Colin Kaepernick to stop kneeling and play.
They have a hard time dealing with America having its first black president, and 'uppity niggers' like Wallace and James speaking out on issues. That can't stand to see Wallace thrive in NASCAR like they didn't want to see Charlie Sifford and Ted Rhodes break the color line in golf 60-years ago. According to legend, Sifford was welcomed to a PGA Tour event by someone who defecated in the first hole.
NASCAR'S fanbase is historically rooted in people who will live and die hating black people. To its credit, NASCAR has embraced the issues of justice, equality, and diversity. Unfortunately, they are going to have to drag and pull many of its longtime fans with them. Their prejudices and hate don't die easily.
The noose was the first public incident for Wallace. However, I can guarantee you it won't be the last he gets.
Comments
comments