Notice
: Undefined offset: 1 in
/var/www/wp-content/themes/jnews/class/ContentTag.php
on line
86
Notice
: Undefined offset: 1 in
/var/www/wp-content/themes/jnews/class/ContentTag.php
on line
86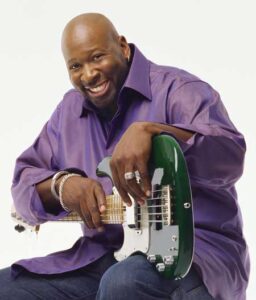 By Rickey Hampton, Editor and Founder of The African-American Athlete
Wayman Tisdale, Power Forward.
When discussing the life and career of the late Wayman Tisdale, the above can mean a couple of things.
Wayman Tisdale, the 'Power Forward', describes the 6-foot-9, 240 pounder, who burst onto the college basketball scene in 1983 at Oklahoma University.  OU is a football school.  However, for the three seasons Tisdale was there ('83-'85) it became a basketball school.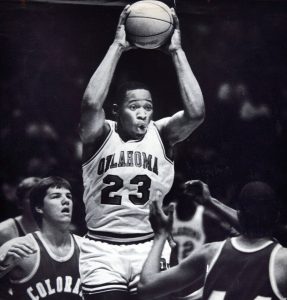 He was a spectacular player, who used his lightening quickness, litany of moves, and a feathery left-handed jumper t0 delight the fans.  Tisdale was a three-time All-American, and three-time Big 8 Player of The Year, at the Oklahoma University, where he averaged 25 points and 10 rebounds per game for his career.
Following his junior season at OU, Tisdale entered the 1985 NBA draft, and was taken with the No. 2 overall pick by the Indiana Pacers. He also played for Sacramento and Phoenix. Tisdale played 12 seasons in the NBA, and finished with a 15-point, 7-rebound per game average.

Tisdale is one of the sport's most underappreciated players.  An All-American, an Olympic Gold medal winner for USA basketball (1984), and an accomplished NBA player.  He was inducted into the college basketball Hall of Fame in 2009.
But hoops was just a part of Tisdale's life. 
Power Forward takes on an entire new meaning following his NBA career.  It was the title of Tisdale's 1995 debut album released by arguably the tallest jazz guitarist in the history of music. Tisdale released eight contemporary jazz albums, and all of them were top 10 on the charts. Three of his releases 'Face to Face', 'Way Up' and 'Rebound' topped the charts.
The son of a preacher, Tisdale grew up playing at Friendship Church in Tulsa.  He wasn't even contemplating a career in basketball.
"I didn't want to play basketball," Tisdale once said.  "My older brothers got me into it and made me like it.  They showed me the lucrative side of it… Then I fell in love with the game.
But I never threw music away."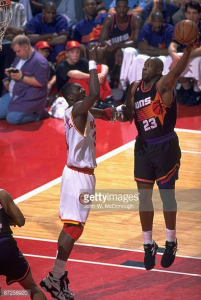 Indeed, music was his first love was music. Tisdale played the bass guitar. Music was so important to him that when he was recruited to OU, coach Billy Tubbs changed the team's Sunday practices to the evening so Tisdale could play during the morning services at his father's church in Tulsa.
In February of 2007, Tisdale broke his leg when he fell down a flight of stairs at his home in Los Angeles. Doctors subsequently discovered that he had cancer in his knee. In 2008, he had part of his right leg amputated in an attempt to beat the cancer.
The big man lost his battle in May, of 2009.  He was only 44.
Throughout it all he expressed the same joy and spirit for life that he played basketball with, and shared in his music. People that knew him remember his infectious smile, and joy for life, no matter the circumstances.
"Nothing can change me," he said. "You go through things. You don't change because things come in your life. You get better because things come in your life."
Tisdale's spirit for life lives on in those who knew him, and of course, in the everlasting gift of music.
Linked below is more on the life of Wayman Tisdale.
Comments
comments