Notice
: Undefined offset: 1 in
/var/www/wp-content/themes/jnews/class/ContentTag.php
on line
86
Notice
: Undefined offset: 1 in
/var/www/wp-content/themes/jnews/class/ContentTag.php
on line
86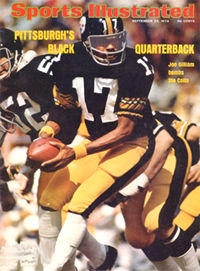 By Rickey Hampton, For Founder and Editor of The African-American Athlete
[dropcap]E[/dropcap]very time I see the SI cover of Joe Gilliam Jr., 'Pittsburgh's Black Quarterback', I get chills. I study the picture as thoroughly today,  as I did when it first appeared in 1974.  The picture appears to be a simple hand off, probably to Franco Harris, the future Hall of Fame running back.
At least to me, it is so much more.  I see  perfection. I see intelligence.  I see confidence. I see power. I see swag. No. 17  is in complete control as No. 52, Mike Webster, a future Hall of  Famer, looks to take on a defender.
And  that is why this picture means so much. Seeing Joe Gilliam Jr. in complete control is something we did not get to see a lot of during his adult life.
It has bee 17 years since  Gilliam passed away, and more than 40 years since his glory years on the gridiron. Nonetheless,   Joe Gilliam Jr., aka 'Jefferson Street Joe', still stirs the hearts and minds of  those who loved him, cheered him, and adored him.
And we all still wonder what could have been…
As a native of Nashville, I grew up a huge fan of  TSU. As a kid of the civil rights movement in the 1960s, I remember how much TSU athletics meant to Nashville's African-American community.  Understand, Nashville  was a segregated city  then. And just to show you how that was not such a long time ago, I was born in a segregated hospital, and my early education came in segregated schools.
Segments of  Nashville's  white community simply did not want African-Americans to believe that we had worth, but it was not working.  Nashville is home to Fisk University, Meharry Medical College, American Baptist College, and Tennessee State University.   Those schools produced a legion  of  bright, bold, and fearless young men and women, who were determined to challenge, and change, the status quo.
They gave our community a sense of  pride, and a sense of strength.
[quote]
There was no better way  of showing that  strength, power, and unity in the African-American community than through athletics.  No school did that better than TSU.   If it wasn't the wondrous, Olympic medal winning, Tigerbelle track team under the guidance of coach Ed Temple, it was coach Johnny McLendon's fast breaking, running and gunning, Tiger basketball team, led by Dick 'Skull' Barnett.  TSU fans packed Kean's Little Garden to watch this extraordinary team, which captured three consecutive NAIA national championships,  1957-59.
And then there was TSU football. Coached by John Merritt, and aided by a pair of brilliant assistants, Alvin 'Cat' Coleman, and Joe Gilliam Sr. (the father of Joe Jr.) , they made football Saturday's in Nashville a ritual. And each Big Blue Tiger victory was an accomplishment celebrated throughout Nashville's black community.
[/quote]
I can still envision the spectacular, Aristocrat of Bands, high stepping past Kean's Little Garden, and down the stairs next to the ROTC building, into a sold out Hale Stadium.
Like me, many were there to see one man in particular,  Joe Gilliam Jr.  Of all the incredible  athletes produced at TSU _ Olympians Wilma Rudolph and Ralph Boston, football legends like quarterback Eldridge Dickey, Richard Dent and Ed 'Too Tall' Jones, along with basketball greats Ted McClain and Anthony Mason _ I dare say none of those iconic figures are more beloved than Joe Gilliam.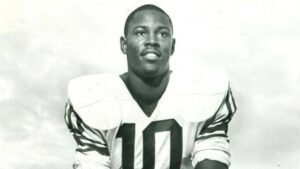 The Jets had Broadway Joe in New York, and TSU had Jefferson Street Joe. In North Nashville's black community, Jefferson Street was Broadway, being that black folks were not welcomed in downtown.  Jefferson Street was lit up with restaurants, a movie theater, clubs, stores, and shops.
Joe Gilliam Jr.  lit up the football field, too. In an era in which most college football teams were running the ball, the Big Blue Tigers were throwing it, throwing it often, and throwing it deep.
Offensive coordinator Cat Coleman, a trained scientist academically,  took a scientific approach  to football. He looked at angles and spacing. He devised an attack that was essentially the West Coast offense 30 years before San Francisco 49ers coach Bill Walsh made it famous.
For the offense to operate efficiently, the ball had to come  out on time, and be on target. It was attack, attack and attack. Coleman had the perfect quarterback to do that with in Gilliam. He executed the offense brilliantly. He had a laser quick release, that was only matched by his laser arm. He had an  All-American career at TSU, leading them to two Black College titles. He  was drafted by the Pittsburgh Steelers in the 11th round of the 1972 draft.
Highly intelligent, and well schooled in offensive football at TSU, Gilliam picked up the pro system easily.  By the start of the 1974 season, he had worked his way into the starting lineup for the Steelers. He led the Steelers to a 4-1-1 record, before the controversial benching by Steelers coach, Chuck Noll.
In essence, it was the end of his career. Some still argue that Noll's decision to bench Gilliam was unfair. Perhaps, but you can't argue the results. The Steelers went on to win the Super Bowl with Terry Bradshaw replacing Gilliam at quarterback. Bradshaw went on to a Hall of Fame career. Noll won four Super Bowls. In pro sports, fairness and feelings don't count, just winning.
We all know the story from here. Drugs plagued Gilliam much of his adult life. Ultimately, it cost him his NFL career, and shortened his life.  We lost 'Joey' on Christmas day, in 2000. The medical examiner's report said he died of a drug overdose. He was only four days short of his 50th birthday.
Joe Gilliam Jr. was like a spectacular meteorite streaking through the NFL, and then  fading away. Joey is gone, but his spirit and his legacy lives on. And the mere mention of his name still brings us wonder.
Comments
comments