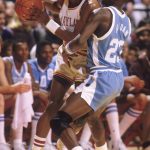 Amazingly, it has been more than 30-years since the passing of Len Bias.
Bias was the No. 2 pick of the 1986 draft By the Boston Celtics, after a spectacular career at the University of Maryland. Sadly, Bias died two-days later, on June 19th, the cause of death was an overdose of cocaine. We will never know how good Bias would've been, or how the history would have changed if he had played.
The 6-foot-8, high-flying forward was joining the Celtics, who were already loaded with hall of Famers Larry Bird, Kevin McHale, Robert Parrish and Dennis Johnson. He could have brought them another championship, or two.
Bias was a tremendous athlete. Many scouts compared his game to Michael Jordan's, but he seemed closer to Dominique Wilkins, to me. Bias didn't have Jordan's ball-handling skills, but he could do everything else. He was a terrific rebounder, scorer, and defender. Bias had the game to challenge Michael Jordan's dominance in the NBA.
He would have been a franchise player, and possibly good enough to have challenged Jordan, and the Bulls' championship run.
There is no doubt in my mind an organization like the Celtics would have done everything to put players around him, as their core of Bird and Company got older.
But there are a couple of things that I do know. Lenny Bias was one hell of a basketball player, and his tragic death, more than 30-years later, is heartbreaking.
Linked is a video chronicling the life of Len Bias.
Comments
comments