Notice
: Undefined offset: 1 in
/var/www/wp-content/themes/jnews/class/ContentTag.php
on line
86
Notice
: Undefined offset: 1 in
/var/www/wp-content/themes/jnews/class/ContentTag.php
on line
86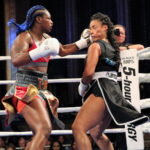 By Leland Stein, For TheAfricanAmericanAthlete.com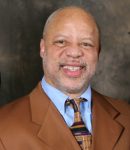 DETROIT – I have covered over 100 championship boxing matches and every other sporting event too, but there is something about a sweet science title contest that is simply electric.
Flint, Michigan's Claressa "T-Rex" Shields (6-0, 2 KOs), a two-time Olympic Gold Medalist (2012 and 2016), and now unified women's super-middleweight champion took on Costa Rica's Hanna Gabriels (18-2-1, 11 KOs).
Together, they not only illustrated how far women's boxing has come, but more importantly, they provided an action-packed fight that was indeed worthy of a national event presented by Showtime Boxing.
At Detroit's historic Masonic Temple one boxing's more famous combatants, 23-year-old Shields, undeniably had the estimated 3,000 in a frenzy throughout as fisticuff enthusiasts stood from the third round to the final bell.
"T-Rex" carved out an exciting unanimous decision. The victory gave Shields the IBF and WBA middleweight world championships. Despite her loss, Gabriels is still unified women's junior middleweight champion
Having glided through an exceptional amateur career and her first five professional fights, Shields found herself in uncharted waters. First, she gets knockdown in the first round (her first time touching the canvas), getting hit more than in any fight she has engaged in, and, getting headbutted numerous times with one opening up a significant cut on her left cheekbone.
Still, she found or elevated that special intrinsic something that all champions possess, heart and swag, and, she needed it all.
"Once I went down," Shields recalled in the post-fight press conference, "I took a deep breath, and I remember thinking to myself, 'I'm about to whip this girl ass.' I just remember thinking let's use the jab, be smart, move your head and tire her out.
"What I proved to myself was I can get put on my ass, get up and come back and win. This was my night, and I had to show the world I'm the greatest of all-time. I showed who I am. Now, I'm really dangerous because you can even put me down, and I'll still come back to win."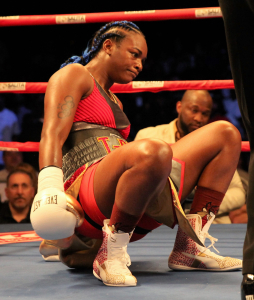 Shields represents more than just boxing, as everyone knows about the horrible decisions made in the Flint water crisis that hurt so many.
Also, the city has become a victim of the economic and manufacturing changes that happens to cities that rely too heavily on any one industry, and, the subsequent poverty that follows.
"I know I am one of the most popular people to come from Flint," Shields said. "So, I represent my city, my community and the U.S.A. I know a lot of people are expecting great things from me, but no one expects more from me than I do from myself!"
Shields is a female Sugar Ray Leonard, in terms of her hand speed. She always unleashes punches in combinations and flurries that puts unrelenting pressure on her opponents. She came at Gabriels, 35, in tsunami-like waves of smites that just overwhelmed her opponent.
She commanded the exchanges after the first round, but got a stern test from Gabriels, a former welterweight world titlist, in her toughest fight yet.
According to CompuBox statistics, Shields landed 162 of 506 punches (32 percent), and Gabriels landed 133 of 510 (26 percent). Shields averaged 66.5 punches thrown per 2-minute round and landed 46.6% of her power shots. She out landed her opponents by more than 3-1 in power shots.
"I was a little surprised at her speed," Gabriels said in the post-fight press conference. "She has a lot of heart, but so do I. I left my heart in that ring. I trained to go the distance, but my heart betrayed me because, after that first knockdown, I was looking for another one. I wanted to show everyone I had a warrior's heart. I didn't feel I had an advantage after the knockdown. I felt I had to work round after round to even have a possibility to win."
Said Shields: "[Gabriels] a good fighter. She has skills and just the way she carries herself. She's very calm, and her facial expressions never change. I think she's tough, but not as tough as I am. I know I'm the better fighter."
The victory over Gabriels set up a fall showdown for the undisputed women's middleweight world championship with fellow two-belt titleholder German fighter Christina Hammer. Hammer routed Tori Nelson to retain her belts in the co-feature.
Shortly after the decision, Team Shields and Team Hammer began the hype for the mega fight, as an ugly scrum broke out after the fight.
"I'm just tired of Hammer disrespecting me all the time," Shields said. "She comes into the ring after all my fights, stealing my shine, talks trash, and then she goes in there and looks likes— against Nelson. I'm sick of it. But I let her know I'm more than ready for a fight against her. She wanted me to lose tonight, but I wanted her to win because I want to fight her. We have to unify now."
Said Hammer: "I'm really looking forward to fighting Claressa. She will try and fight me on the inside, but my footwork and my reach will be the difference. The fight with Claressa will be a game-changer. It will be the biggest women's fight ever."
In the opening bout of the Showtime-televised tripleheader, light heavyweight Umar Salamov (22-1, 16 KOs), 24, of Russia, knocked out Brian Howard (13-2, 10 KOs), 38, of Atlanta, in the ninth round. Salamov was ahead on all three scorecards when he dropped Howard for the count with two right hands at 53 seconds.
Leland Stein III can be reached at lelstein3@aol.com and twitter @LelandSteinIII
Comments
comments