Antonio Brown went from a sixth-round pick to arguably the top receiver in the NFL.
By Maury Jackson, For The African-American Athlete
Coming off a pretty solid, yet disappointing end to a season, the Pittsburgh Steelers had one thing in mind, to keep their superstar wideout in Pittsburgh. That means signing Antonio Brown to a long-term contract.
Coming off almost 1300-yards receiving and 12 TDs, Brown has been as consistent as they come when it comes to the wide receiver position.
The sixth-round pick from Central Michigan in 2010 brings a winning combination to the field. He is durable, has great hands, superb route running, speed, and red zone productivity all characterize Brown.   He is continuously mentioned with the likes of New York Giants' Odell Beckham Jr., Atlanta's Julio Jones, Cincy's AJ Green, Dallas' Dez Bryant, and Indy's T.Y. Hilton as the best in the business.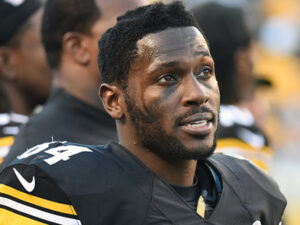 Although considered among the best, if not the best, his salary has always been questioned.
That is not the case anymore as the Steelers have signed him to a five-year, $73 million extension. Not to say this is not deserving, but is such a contract necessary and appropriate.
At age 28, his youthful fountain will only go down from now. While young, upcoming wideouts such as Odell Beckham and Mike Evans continue to improve more and more, wide receivers such as Brown and Dez may begin to slow down more and more.
In a "Steel City" fan base such as the Steelers, there will be no room for "being nice" if his game begins to slid.
The Steelers 2016 season ended with yet another disappointing loss to New England, Antonio didn't have a bad game, but not a great one either. He had seven catches for 77-yards, he was going up against one of the league's most talented corners in Malcolm Butler of the Patriots.
This is not to say Antonio Brown will begin to slow down next season, but the Steelers may need to save their money for capturing younger talent out there. Whether he continues to excel with age like Larry Fitzgerald, or hit a steep decline, Steelers' fans expect him to continue being a top five  wideout.
Most wide receivers in the past hit their peak at around 26-27, from Calvin Johnson and Victor Cruz to Andre Johnson and Wes Welker. Whether injuries, quarterback play, or sheer dropoff have an effect, they just are not the same for much longer. Five years is a long time for anyway to keep up superstar play after years of stardom already.
Maybe the Steelers organization have faith that he can become one of the best wideouts ever, and that he can bring a ring to the "Steel City". Coach Mike Tomlin, the Steelers organization, and the fan base all have their trust in Brown. Yet and still, some will only discuss how deserving, but risky this deal may be.
Comments
comments