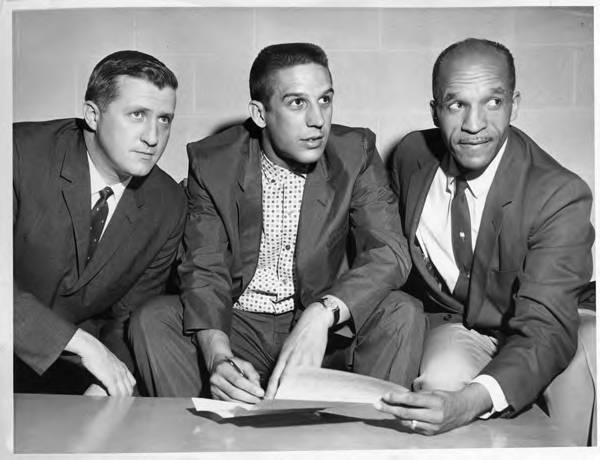 By Leland Stein III, For TheAfricanAmericanAthlete.com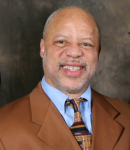 "The best and greatest coach of all time,"  NBA legend Bill Russell, talking about  John McLendon
The late New York Yankees iconic owner, George Steinbrenner III, was a living oxymoron: abrasive and gentle, annoying and delightful, mean, and kind.
All those adjectives applied to the man who earned the nickname 'The Boss.'
He was also given the negative nickname 'Manager George' for his tendency to meddle in daily on-field decisions and to hire and fire managers. 
His outspokenness and larger-than-life role in driving up player salaries made him one of sports most controversial figures.
Out of all the stories that surfaced since his passing in 2010, his relationship with Hall of Fame basketball coach John McLendon is one that most overlooked.
Years ago, when Don King brought McLendon to Las Vegas for a Mike Tyson fight, I was told I should interview him.
 I always considered Detroit coaching legend Will Robinson the true pioneer for black men and women coaching basketball. And there is no doubt Coach Robinson is one of those giants.
 However, I found out during that weekend that McLendon was one-of-a-kind.
During our many sessions together that Las Vegas weekend, I realized that McLendon was a true African- American coaching pioneer. 
As we talked Steinbrenner's name jumped into the conversation.
It turns out before Steinbrenner took ownership of the Yankees in 1973, he had already expanded himself as more than a Cleveland Great Lakes shipping magnate.
 In 1960, against his father's wishes, Steinbrenner entered the sports franchise business for the first time with the Cleveland Pipers of the American Basketball League (ABL) founded by Harlem Globetrotters owner Abe Saperstein.
 Steinbrenner joined the new basketball circuit and went on a search for a head coach.
McLendon told me Steinbrenner informed him he was looking for a big-name coach, but he would check into his background.
 McLendon said Pipers' general manager, Mike Cleary, was a basketball man and was in his corner. 
Cleary persuaded Steinbrenner to hire McLendon, who had won three NAIA championships at Tennessee A&I in Nashville (1957-59) and coached the Pipers when they were a semipro team.
Steinbrenner would later be proud as he exclaimed he hired the first black coach in major professional sports. 
"After Cleary told Georg to ask around about me," McLendon recalled, "George then got scared that I was too big."
McLendon, who is known as the father of international basketball, said Steinbrenner came back to him and was worried that his international travels and his conducting clinics throughout the country would take him away from bonding with the Cleveland community.
"Before we agreed formally that I would be coach," McLendon said, "I had to prove to him that I was committed to Cleveland. So, I accepted a job with the Cleveland Parks and Recreation, agreeing to conduct clinics throughout the city."
George hired me, and I became the first Black to coach a professional basketball team in 1961." 
McLendon brought in several of his star players from Tennessee A&I, such as John Barnhill and Ben Warley, and they helped Coach win the ABL first-half division title.
However, when Steinbrenner held back the team's paychecks, the players threatened to boycott. 
In McLendon's biography 'Breaking Through: John B. McLendon, Basketball Legend and Civil Rights Pioneer', by Milton S. Katz, the author recounts how McLendon went public with the players' complaints, and all hell broke loose.
Katz wrote that Steinbrenner made the players retract their complaints to the press in a written statement. McLendon resigned on moral grounds that he could not lie about what happened. Steinbrenner then hired former Boston Celtics star and Lakers Hall of Fame coach Bill Sharman.
Due to the outcry, Steinbrenner brought McLendon back as vice president of Basketball, thus becoming the first Black professional basketball executive. The team and league folded the next year after a merger with the NBA fell through.
 McLendon being a cool, calm, collected, and professional man, was one of the first coaches to endure the gruff personality that would later characterize Steinbrenner.
McLendon said he and Steinbrenner got along just fine and that they remained friends long after their basketball union made history.
McLendon studied in the 1930s at the University of Kansas and learned the game from Dr. James Naismith, who invented the sport. McLendon was not allowed to play because of segregation. In fact, Kansas would not suit up its first Black player until 1951.
Despite all of the obstacles put in front of him, John McLendon still rose.
Leland Stein catein3@aol.com and Twitter@LelandSteinIIIn be reached at lels.
Comments
comments