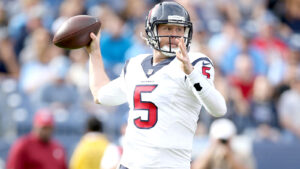 By Rickey Hampton, Editor and Founder of The African-American Athlete
If I was a fan of the Tennessee Titans today, I would be pissed. Not only did the Titans lose to Houston 57-14 last Sunday, they may have lost their starting quarterback, Marcus Mariota, to a hamstring injury.
The Titans need a QB, and by far the best QB available is Colin Kaepernick. Not only that, the Titans' offense is a perfect fit for Kaepernick's skill set. He and Mariota are mobile, athletic quarterbacks, perfectly suited to the Titans' run option offense.
But, who did the Titans choose to sign today? Brandon Weeden. A journeyman, who has played on three teams in six seasons. He has thrown 31 touchdowns and 30 interceptions. He is the definition of mediocrity. How has Kap done? He has thrown 72 touchdowns, against only 30 interceptions. Oh, yeah. He has led his team to a Super Bowl.
This confirms for the umpteenth time what we already know… Kaepernick is being whiteballed by the NFL's majority white ownership. If the Titans were serious about winning the AFC South, and getting into the playoffs, they would have at least brought Kaepernick in for a workout.
But nope, they brought in Brandon Weeden. There is not a scout in the NFL that will tell you Weeden is any where close to being the player Kaepernick is.
 Of course, this decision wasn't a football decision, it was a business decision. The Titans would rather lose with a mediocre quarterback, than bring in a far superior player who had the nerve to kneel quietly during the national anthem.
 Titans fans y'all need to know, your team is not serious about winning.
Comments
comments