Notice
: Undefined offset: 1 in
/var/www/wp-content/themes/jnews/class/ContentTag.php
on line
86
Notice
: Undefined offset: 1 in
/var/www/wp-content/themes/jnews/class/ContentTag.php
on line
86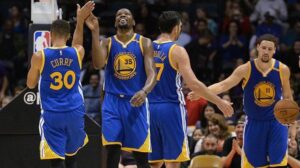 By Rickey Hampton, Editor and Founder of The African-American Athlete
I am glad to see the newly crowned World Champion Golden State Warriors are contemplating not making the ceremonial visit to the White House. Conflicting reports have the Warriors voting unanimously not to visit the White House, while other reports say a final decision has not been made yet.
If the Warriors' don't go, which I think seems very likely, it will be a direct rejection of Donald Trump's racist policies, hatred, and attacks of poor people of all colors. It would be good to see the Warriors act on this, and send a message that his behavior will not be tolerated, at least by some.
Of course, everyone doesn't get it.
It is an utter shame the United States Golf Association (USGA) is going to conduct its biggest event in women's golf _  the 2017 U.S. Open (July 13-17) _ at Trump National golf club, in Bedminster, N.J.
 Yep, the USGA is going to do business with a man who says he makes it a practice to grab women's vaginas, walk unannounced into adolescent beauty pageant dressing rooms, and objectify women. Yep, they are doing business with a misogynist.
This is truly akin to Trump saying he could 'shoot someone' on Fifth Ave. in New York and still get votes.
The women of the LPGA Tour, who will supply the star power in this event, which is actually conducted by the USGA, should stay away.
Now, I know the chance to win a major golf event is a big deal, especially one that pays so well. Unlike the PGA Tour, LPGA Tour players do not command big purses. However, the USGA does pay well. Last year's winner, Brittany Lang brought home $810,000.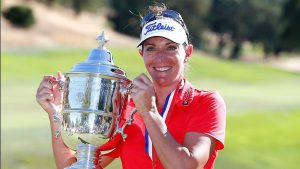 So, I understand the dilemma these women face. This is their livelihood in a sport that is struggling. The shot at a rare huge payday is hard to pass on.
Actually, it's the USGA that has looked the other way. Trump's crotch comments took place in August of 2016. The day after that tape went public, the USGA should have been on the phone making calls to move the tournament.
And, yes, moving a major golf tournament is not an easy thing. There are literally hundreds of things that take place behind the scenes before the first hole is played, and hundreds of volunteers to coordinate.
That said, considering the abhorrent comments of the man who is suppose to lead this country, you would think the USGA would be totally offended. They should be so offended that they would find another venue.
However, just like so many people who voted for that man, despite his policies working against them, the USGA has chose to look the other way.
There won't be a lot of people watching the Women's Open next month, there really never is. I damn sure won't be watching, or supporting any advertiser that associates it's brand with the disgraceful actions of the USGA.
Comments
comments