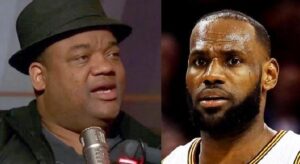 By Christian Bliss, For The African-American Athlete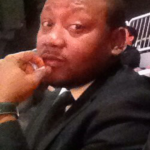 [dropcap]J[/dropcap]ason Whitlock's take on how LeBron James should have reacted to the N-word scribbled across the gate of his L.A. home isn't an isolated point internalized, and expressed by only one member of the African American community.
Sure, Whitlock,  a pundit on FS1, is way wrong, and completely missed the point. LeBron was making in his remarks addressing that infamous seven letter epithet spray painted on his gate, but this sort rhetoric isn't at all the isolated view of one misguided black public figure.
Rather, it gave us a peek into the pernicious and distorted view that, to some degree, permeates the pinnacle of black bourgeoisie.
Whitlock firmly believes that racism in America only affects 'po' black folks'. He stated that a racially motivated act of vandalism is just "a disrespectful inconvenience," if you are a black person of certain financial means.
Whitlock appears to be convinced of the "if you get rich, you no longer have to be black" false theorem.
Sadly, he isn't alone in that arena. Though he is the most vocal advocate of this self-loathing sect, this foolish view point does not start and end with him.
To truly understand the origin of this mindset one must be able to grasp the depth of racism in America, and how it is thoroughly interwoven in the fabric of every institution in the land, especially the institution of education. Negroes are miseducated in this system.
Poor whites are miseducated as well, however they have the ability to blend seamlessly. Having switched from an in-your-face every day reality to a more covert form in the last three decades, racism carries a pervasive and treacherous legacy that is almost impossible to escape. African-American athletes, in particular, have to navigate this very terrain, one on which education, money, privilege, and racism intersect in sometimes insidious ways.
There exists a social class of African-Americans where residents are sheltered by certain amounts of privilege. Mr. Whitlock is correct in that regard.
However, that class is not impervious to racism as we have witnessed time and time again. LeBron James understands this dynamic. He understands his existence in a white dominated world, and is equally critical of the cracks that splinter the foundation on which his own people stands.
That is exactly why LeBron spoke freely during his press conference, offering a dissenting view of the status quo in his remarks. He used his platform once again to highlight an existing problem that seems to have gained outward momentum in the last few years,  Jason Whitlock and others  like him are unable to see that.
Why is that so?
Well the answer is quite simple; they were culturally indoctrinated rather than taught in schools. They were indoctrinated to look at themselves through the eyes of the white man, and value themselves based on his foreign social structures.
Within Eurocentric societies, blacks are indoctrinated to live their lives following a construct where financial achievements are valued over principles and righteousness.
In that world, black equals poverty and vice-versa. So, if you are no longer poor, in some ways you are no longer black. It's a completely false dictum, of course, but that's the magic of indoctrination. It doesn't have to be true as long as people accept it without questioning its purpose.
What Whitlock fails to realize is, if you only equate your self-worth to the dollar sign, you can never be emancipated from slavery. American racism is intrinsically tied to the belief of ownership over people of certain persuasions.
Whether you're rich, or poor, being black in America means you are never that far removed from the history and plight of those that look like you or those that came before you.
None of us are exempt from the reach of racism.
Black folks of this nation should take a macro approach to dealing with racism. With this new wave sweeping the country, it is only a matter of time until it knocks on your own front gate.
Comments
comments