Notice
: Undefined offset: 1 in
/var/www/wp-content/themes/jnews/class/ContentTag.php
on line
86
Notice
: Undefined offset: 1 in
/var/www/wp-content/themes/jnews/class/ContentTag.php
on line
86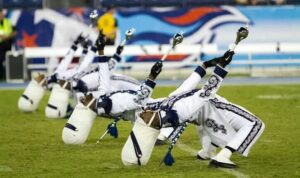 By Rickey Hampton, For The African-American Athlete,
Certainly, one of the great traditions of the sport occurs among America's 106 Historically Black Colleges and Universities. There is nothing quite like HBCU football, or Black College football, as some call it. Black colleges have developed some of the best players and coaches in the history of the game. Grambling's Eddie Robinson is arguably the greatest coach ever. Jackson State's Walter Payton, and Mississippi Valley State's Jerry Rice, are just two, of a litany of  HBCU players, that have made a significant impact on the game.
And, for those who love Black College football, halftime is as special as the game.
And, if  you really want to heat things up, try bringing up which  HBCU school has the best marching band.  If you happen to mention the wrong school _  which you probably will considering most of the nation's 106 HBCUs have marching bands, and practically all of them are outstanding _  then it is on.
And you think Republicans and Democrats can't get along?
The battle of the bands has long been an intricate part of Black College football. And with the start of football season just weeks away, the anticipation of another exciting season is palpable. There are some people who will tell you they go to the games just for the halftime show. Now,  that's a little much for us fans who love the sport, but it does demonstrate the popularity of the bands.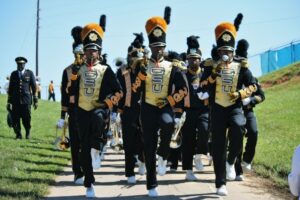 It is why HBCU halftimes last longer than non-HBCU  halftimes. Fans may leave to take a restroom break or get a bite to eat during the game, but no one leaves during halftime.  And fans are there for more than just halftime. There is the entrance march into the stadium, the pre-game show, the in the stand battles throughout the game, and finally  the post-game battles.
The importance of the bands to Black College football has  grown to such a level  that  ESPN3 recently agreed  to show the entire halftime performances of  its MEAC telecasts, commercial free.
The shows are sophisticated performances. The bands enter with a game plan just as the football team does. After all, many bands practice as much as the football team does throughout the season. And even when the season ends,  many bands keep playing. They participate in 'Battle of the Bands' weekends, like the Honda Battle of the Bands, which drew 60,000 fans in Atlanta in January.
It is not unusual to see HBCU bands performing in major events like Super Bowls,  Presidential inaugurations, and appearing in movies,  music videos, and even commercials. In 2010, ESPN produced a reality show featuring rivals Bethune Cookman University and FAMU called 'The Battle'.
But, what about who has the best band? You will get a Republican to say something nice about President Obama, before you see me go there.
You will not find an answer from me in this space, simply because I believe it is a question that can't be answered. It is like trying to get a republican to say something nice about President Obama.  It's like asking who is your favorite band, Earth Wind and Fire, or Parliament  Funkadelic? Your favorite female singer, Aretha Franklin or Patti Labelle? Your favorite jazz artist, John Coltrane or Sonny Rollins?
There are no wrong answers to those questions. However, that doesn't mean you don't have a favorite. I'll take EWF, Aretha and Trane, but I have nothing but love for Parliament, Patti and Sonny. There are some things that pour into our ears differently, and we access things differently with our eyes, our mind, and our soul.
Here are just a few of the great HBCU bands that make Black College football such a tradition.
Comments
comments