Notice
: Undefined offset: 1 in
/var/www/wp-content/themes/jnews/class/ContentTag.php
on line
86
Notice
: Undefined offset: 1 in
/var/www/wp-content/themes/jnews/class/ContentTag.php
on line
86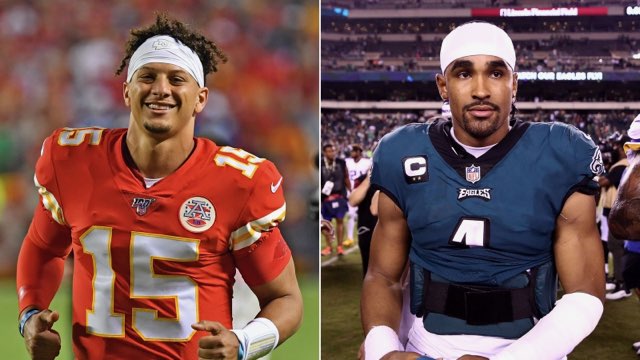 Michael Roberson, For TheAfricanAmericanAthlete.com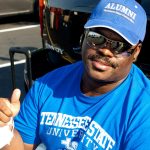 On the 12th day of Black History Month (February) in the state (Arizona) that initially opposed Martin Luther King Jr. Day will host a special moment when two Black starting quarterbacks will face each other in Super Bowl LVII.
Kansas City Chiefs quarterback Patrick Mahomes will start his third Super Bowl (1-1), and his win (SB LIV) marked him as only the third African American QB to win the big game, behind Russell Wilson (Seattle Seahawks – SB XLVIII) and pioneer Doug Williams (Washington Redskins/Commanders – SB XXII).
Philadelphia Eagles signal caller Jalen Hurts will be in his first pro football championship game as the starter, but not his first time with that scenario.  He was QB1 at the University of Alabama, facing the Georgia Bulldogs for the 2017-'18 National Championship, but struggled mightily in the first half, down 13-0 at intermission.  He was benched for the present Miami Dolphins' quarterback and then freshman Tua Tagovailoa.  The Crimson Tide went on to win the College Football Playoffs Championship 26-23 in overtime.
The fact that this is the first occasion in the 56-year Super Bowl Era (My Entire Life) for this special matchup in a 60% Black National Football League, is beyond insulting to not only the predominance of players, but as well as the millions of fans of all levels of society.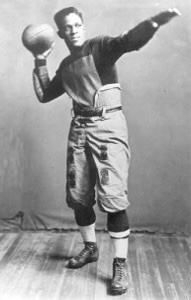 The NFL is 102 years old, but like the other major sports leagues, they also had an unofficial ban (1933-1946) on Black players playing in their association.
Before the ban, Fritz Pollard was the FIRST Black NFL quarterback (1923) as a member of the Hammond (IN) Pros.  Pollard was also a player-coach, even competing with the great Paul Robeson for the Milwaukee Badgers in 1922.  Fritz played halfback for the most part; however, the responsibilities of that position were like the present-day quarterback, while the early QB was essentially a blocker.  The Chicago native was also an All-American at Brown University and played in the 1916 Rose Bowl.
Pollard is in the Pro & College Football Halls of Fame and has a lasting presence in the modern NFL.  The Fritz Pollard Alliance (Rooney Rule) was put into place for fair hiring or access for the African American coaches.
Other Black quarterbacks before the Super Bowl Era:
Joe Lillard – 1932-1933
George Taliaferro – 1950-1955
Willie Thrower – 1953
Charlie Brackins – 1955
As for Super Bowls (1967-Present) and the Black QB, it has been a dearth of them in the big game over the 56-year history.  In 1974, two quarterbacks from famous HBCU's were on track to start in SB IX.  Joe Gilliam (Tennessee State) was the opening game starter for the Pittsburgh Steelers but was benched after only six games (4-1-1). Terry Bradshaw took over the helm-to the delight of many of the Steel City faithful-and won the world championship.  Although the explanation was that it wasn't a racial demotion, but deficient performance and alleged drug abuse.
James Harris (Grambling) took over the Los Angeles Rams signal calling after five games, and took them to the playoffs, becoming the first A-A QB to start and win a playoffs game.  He later lost to the Minnesota Vikings in the NFC Championship.
Therefore, the world could/should have had the historic matchup we have now 48 years ago in New Orleans.  Gilliam's Steelers were that close to playing Harris' Rams in the ninth Super Bowl.  Ironically, the Steelers did play the Rams in SB XIV in Greater Los Angeles, but Pittsburgh won its then record fourth championship title.  However, neither Gilliam nor Harris was involved in the game five years later.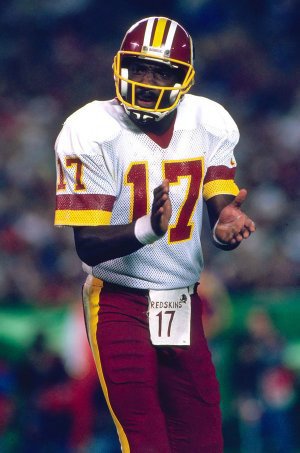 It wasn't until the 1987 season and 22nd SB that we finally saw a Black quarterback start and win a championship on Super Sunday.  Doug Williams (Grambling) and the Washington Redskins (Commanders) dominated the Denver Broncos 42-10, and he was the Most Valuable Player.
Six more QB's were able to start in the Big Game and Hurts will start this one:
Steve McNair (Alcorn State) – Tennessee Titans Lost SB XXIV [St. Louis Rams]
Donovan McNabb – Philadelphia Eagles Lost SB XXXIX [New England Patriots]
Colin Kaepernick – San Francisco 49ers Lost SB XLVII [Baltimore Ravens]
Russell Wilson – Seattle Seahawks Won SB XLVIII [Denver Broncos]
Russell Wilson – Seattle Seahawks Lost SB XLIX [New England Patriots]
Cam Newton – Carolina Panthers Lost SB 50 [Denver Broncos]
Patrick Mahomes – Kansas City Chiefs Won SB LIV [San Francisco 49ers]
Patrick Mahomes – Kansas City Chiefs Lost SB LIV [Tampa Bay Buccaneers]
Patrick Mahomes – Kansas City Chiefs TBD SB LV [Philadelphia Eagles]
Jalen Hurts – Philadelphia Eagles TBD SB LVII [Kansas City Chiefs]
The newly retired Tom Brady (7) inadvertently prevented three Black QB's (McNabb, Wilson & Mahomes) from winning a SB title, and denied two (Wilson & Mahomes) from capturing multiple championships.
Patrick is in his third title game and still can become the only African American [QB] multiple Super Bowl winner or loser.  Jalen will attempt to make up for Donovan because the Eagles already have a title to their name.
Coincidentally, Andy Reid has and will coach four super contests with Black QB's (McNabb & Mahomes) running the show.
Hopefully after this extravaganza it will be the norm and not a novelty for two African American quarterbacks or coaches to face each other with a world championship on the line.  Especially in a predominantly Black league or sport.
Celebrate Black History!
Comments
comments