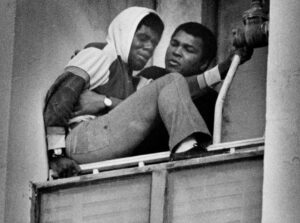 If you ever get an opportunity to visit the Muhammad Ali Center, located in downtown Louisville, Ky., don't pass it up.

The Ali Center is an extraordinary hall dedicated to the life of Ali, who was born and raised in Louisville. The center is dedicated to the life tenets Ali stood for, peace, love, and justice of mankind.  And, you may think you know about Ali until you visit the Center.

Ali's power, courage and humanity are truly unending. There are literally dozens, and dozens and dozens of exhibits on display, which speak to the greatness of Ali not only as a boxer, but as a humanitarian.

Just one example of Ali's humanity is depicted in one of the many stirring exhibits. The Champ comes to the aid of a Vietnam veteran who is contemplating suicide.  According to reports, Ali happened to be in L.A. in January of 1981 when he heard about a man who was threatening to jump of a building. The Champ rushed to his aid.

"I'm no good," said the man, as he teetered on the ledge of a building nine floors above Wilshire Boulevard. "I'm going to jump!"

But the Champ wouldn't hear it.

"You're my brother. I love you and I wouldn't lie to you," Ali said to the man. "You got to listen. I want you to come home with me, meet some friends of mine."

Ali was able to get the man off the ledge, and he made a point to help him get the help he needed to restore his life.

Check out the video below.
Comments
comments