Notice
: Undefined offset: 1 in
/var/www/wp-content/themes/jnews/class/ContentTag.php
on line
86
Notice
: Undefined offset: 1 in
/var/www/wp-content/themes/jnews/class/ContentTag.php
on line
86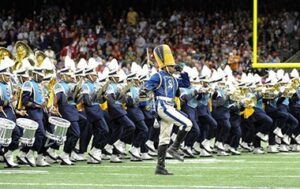 [dropcap]S[/dropcap]o, what's the quickest way to start an argument? Tell a Republican you think President Obama was the greatest president ever?   Tell a person your religion is better than their religion?  Announce that Lil' Wayne is the greatest rapper ever…lol? Well, I am sure all three of the above are great, if you are looking for a good argument.
 However, if  you really want to heat things up, try bringing up which  HBCU school (Historically Black Colleges Universities) has the best marching band.  If you happen to mention the wrong school, which you probably will considering most of the nation's 106 HBCUs have marching bands, and practically all of them are outstanding, then it is on.
And you think Republicans and Democrats can't get along?
The battle of the bands has long been an intricate part of Black College football.  There are some people who will tell you they go to the games just for the halftime show. Now,  that's a little much for us fans who love the sport, but it does demonstrate the popularity of the bands.
It is why HBCU halftimes last longer than non-HBCU  halftimes. Fans may leave to take a restroom break or get a bite to eat during the game, but no one leaves during halftime.  And fans are there for more than just halftime. There is the entrance march into the stadium, the pre-game show, the in the stand battles throughout the game, and finally  the post-game battles.
The importance of the bands to Black College football has  grown to such a level  that  ESPN3 recently agreed  to show the entire halftime performances of  its MEAC telecasts, commercial free.
[quote]The shows are sophisticated performances. The bands enter with a game plan just as the football team does. After all, many bands practice as much as the football team does throughout the season. And even when the season ends,  many bands keep playing. They participate in 'Battle of the Bands' weekends, like the Honda Battle of the Bands, which draws huge crowds each year.[/quote]
It is not unusual to see HBCU bands performing in major events like Super Bowls,  Presidential inaugurations, and appearing in movies,  music videos, and even commercials. In 2010, ESPN produced a reality show featuring rivals Bethune Cookman University and FAMU called 'The Battle'.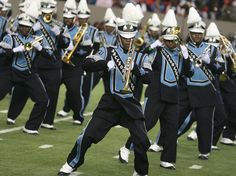 But, what about who has the best band? You will get a Republican to say something nice about President Obama, before you see me go there.
You will not find an answer from me in this space, simply because I believe it is a question that can't be answered. It is like trying to get a republican to say something nice about President Obama.  It's like asking who is your favorite band, Earth Wind and Fire, or Parliament  Funkadelic? Your favorite female singer, Aretha Franklin or Patti Labelle? Your favorite jazz artist, John Coltrane or Sonny Rollins?
There are no wrong answers to those questions. However, that doesn't mean you don't have a favorite. I'll take EWF, Aretha and Trane, but I have nothing but love for Parliament, Patti and Sonny. There are some things that pour into our ears differently, and we access things differently with our eyes, our mind, and our soul.
Here are five of my favorite bands, with apologies to another dozen or so bands like Grambling University and Texas Southern. I have also embedded videos of my top five just so you can get a sample:
Tennessee State University – Growing up watching Tennessee State University's majestic 'Aristocrat of Bands' certainly makes me partial. The majesty in the way they march, the preciseness of their execution, and their rich sound captivated me  years ago as a kid, as well as today. They are definitely one of the country's top bands, with a long list of accolades

Florida A&M University – The Rattlers' 'Marching 100' are known for the their spectacular signature fast step entrance, in which the band members spring in precision pace.  The Rattlers are certainly the most famous of  all the HBCU bands, having performed to rave reviews world wide, in movies, Mardi Gras parades,  and national television. The Rattlers also  boasted  having the best band in the world.  The Marching '100' actually consisted of more than 400 members until a few years ago.
However, following the death of drum major Robert Champion from injuries he suffered during a hazing incident the band was suspended for 19 months. It returned with a smaller unit of  about 250 members.

Jackson State University _ The  'Sonic Boom of the South' is one of the most underrated bands in the country in my mind. I don't know why because they can do it all. They have a big, bold, sound, and they can march, sing and play with anyone. The 'Sonic Boom' is as good as any band in the land.

Southern University _ The 'Human Jukebox' band, which is know for its incredible horn section, that creates a brassy sound. "They always had the best musicians," said a former HBCU band member. "They can play anything. They are like a jukebox. Put a quarter in and they can play anything you want. on demand. That is very hard to do."
Bethune-Cookman University – The 'Marching Wildcats'. I love their creativity on the field and in the stands. Another band with outstanding musicians. I really got an appreciation for the detailed preparation that goes into each performance by HBCU bands watching the Marching Wildcats on ESPN's 'The Battle.'
Comments
comments