Notice
: Undefined offset: 1 in
/var/www/wp-content/themes/jnews/class/ContentTag.php
on line
86
Notice
: Undefined offset: 1 in
/var/www/wp-content/themes/jnews/class/ContentTag.php
on line
86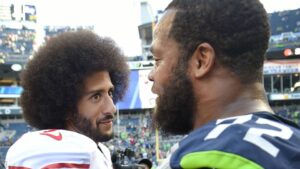 By Rickey Hampton, Editor and Founder of The African-American Athlete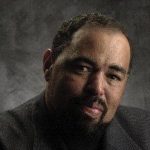 I really appreciated what Seattle Seahawks standout Michael Bennett said Sunday as he explained his reason for not standing for the playing of the 'Star Spangled Banner' before the start of the Seahawks-L.A. Chargers preseason game.
"I hope that I can activate everybody to get off their hands and feet and go out into the communities and push helping each other," said Bennett, speaking with reporters following the game. "Sit down with somebody that's the opposite sex, sit down with somebody that's the opposite race, different religion and understand that people are different and go out and join the community and try to change the society, change what you're a part of. If you don't like it, keep changing it."
That's powerful stuff from Bennett.  The Pro-Bowl defensive end says he plans to sit throughout the season during the anthem. While discussing the backlash that he is surely to receive,  Bennett touched on one of the major differences in the social activism of the black athletes of today, compared to the social activism of  black athletes from yesterday.
For the men of yesterday, the cause was always bigger than the individual.
"Of course I'm going to face backlash," said Bennett. "This is bigger than me. This is bigger than football. This is bigger than anything that we have. This is about people. This is about bringing opportunities to people, giving people equality. This is bigger than a sport."
I love Bennett saying that.  When people look back at the activism of athletes from the '60s that is what drove them. John Carlos was kicked out of  the 1968 Olympic Games, along with Tommie Smith for their 'Black Power' protest during the medal ceremony.
A reporter asked Carlos why would he risk losing the fame and the adulation that came with winning an Olympic medal. "Kids around where I live can't eat a Gold medal," Carlos said. "All we are asking is for a decent chance to be a human being."
Sure, the black athletes from that era wanted to make money. However,  many of them felt it was even more important to be treated with dignity and respect. They wanted to be treated as men and women. They wanted to go into restaurants of their choice, send their children to the schools of their choice, and live where they wanted.
In addition to Bennett, Oakland's Marshawn Lynch remained seated during the anthem last weekend. Of course, last season 49ers' quarterback Colin Kaepernick kneeled during the anthem, which was his way of protesting the injustice in society.
Let's hope other athletes will find a way, and the courage, to express themselves for issues that are bigger than they are.
Comments
comments