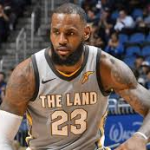 By Shaquille Hill, For The AfricanAmericanAthlete.com 
The Cavs have traded Dwyane Wade to Miami for a second round draft pick, according ESPN 's Adrian Wojnarski. They've also traded Isaiah Thomas and Channing Frye to the Lakers for Larry Nance Jr and Jordan Clarkston.

In a three team deal with Sacramento and Utah, they have acquired Rodney Hood of the Jazz and George Hill of Kings. Joe Johnson will head to Sacramento , while Jae Crowder and Derrick Rose head to the Jazz.
Cleveland gets younger and clears space on the cap, but do they get to the Finals? Or even the Conference Finals?
They no longer have a threat to score on the perimeter without Thomas or Irving, now that both men are gone. Rose has also been traded, so who runs the floor in Cleveland?

With Jordan Clarkston and Larry Nance Jr., the Cavs get size and youth. But is that enough to get past the Raptors and Celtics to get to a fourth consecutive NBA Finals appearance? And, more importantly, will they all have enough time to adjust to a different playbook, style and culture? Marc Stein of the New York Times reports that the Cavs will bring in Kendrick Perkins as well. That helps with experience, but I wonder if they could have gotten more with all of players Cleveland dealt.

LeBron has yet to commit long term, so owner Dan Gilbert could be preparing for LBJ to leave. There have also been whispers in Gilbert wanting to sell the team in the future.

Speaking, of which, the Lakers are now in position to clear cap space for 2019 where free agents like Kawhi Leonard, Klay Thompson and Jimmy Butler could be available. They could also go after James and LA native Paul George. According to Joy Taylor of Fox Sports 1, the Lakers have nearly $ 70 million in cap space now.
Expect moves to be made. If the Lakers continue to improve, they may be on the path Miami was on in 2010 , culminating in a Big Three/Four situation with Lonzo Ball and/or Kyle Kuzma/Brandon Ingram.

As for Dwyane Wade, he'll get end his career in Miami. Three rings. The Big Three. Five Finals appearances, and the 2006 Finals MVP. Only fitting that # 3 comes back home. The Heat are currently the seven seed in the East, so Wade could not only finish his career at home, but also in the postseason. Miami also gets veteran leadership from the hometown hero who is a Finals MVP, three-time NBA champion, and a 12-time All-Star.

Wade wanted more time on the floor and a return to South Beach, and the Cavs will honor that. Finally, Wade gets rewarded with a homecoming fit for a king, after bringing one in. Miami is officially Wade County again.
Time will tell how it plays out. Will the Cavs remain a contender? Will LA continue to improve with their young core and attract stars to Hollywood, as Celtics general manager Danny Ainge has? If that formula works out, LA may not be far from title contention in the next decade.

And will the King stay on his throne? Or take his talents to rule another domain? LA? Houston? San Antonio?
The race for the next Decision is on.

And the NBA's future is on a fastbreak.
Comments
comments