Notice
: Undefined offset: 1 in
/var/www/wp-content/themes/jnews/class/ContentTag.php
on line
86
Notice
: Undefined offset: 1 in
/var/www/wp-content/themes/jnews/class/ContentTag.php
on line
86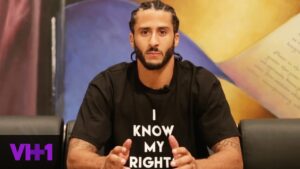 By Rickey Hampton, Editor and Founder of The African-American Athlete,
The other day Floyd Peters, the former general manager of the Tennessee Titans, said the Colin Kaepernick would not be a good option for his former team.
He went through the usual things like Kaepernick is not a pocket passer, didn't fit the Titans' system (which is a joke), and he even went on to try to say that journeyman Brandon Weeden, who the Titans signed, was a better option.
But what was most infuriating is to hear Peters says that with Kaepernick comes a 'circus' atmosphere.
Of course, there is nothing outlandish about Kaepernick's stance on justice and equality.  It is serious business. And, when he speaks to those issues, he is speaking from fact. The 'circus' crack by Peters is just part of the attempt to assassinate Kaepernick's character, and somehow justify his unemployment as something other than the NFL's white ownership decision to 'whiteball' him.
However, this video of a recent appearance by the former San Francisco 49ers quarterback at a school in New York is an example of Kaepernick's true character. Kaepernick has been visiting schools and taking part in workshops such as 'I Know My Rights'. Recently, he spoke to students in Brooklyn, where he handed out backpacks, and made a $25,000 donation.
The video below is from one of the workshops that was conducted in Chicago.  Let me know if you see any hints of the 'circus' atmosphere that allegedly accompanies Kaepernick.  In the video  Kaepernick begins speaking at around the 6:00 mark.
Comments
comments