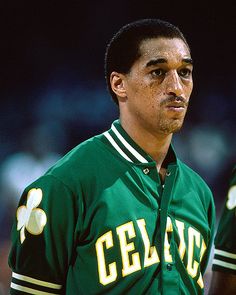 If you ever want to explain to a young cat what 'old school' basketball really means, have him do some research and look at some film of the late Dennis Johnson.
 The 6-foot-4 guard was one of the NBA's finest players. He represented practically everything you would want to see in a basketball player. He was tough, smart, courageous, fundamentally sound, and highly skilled.
Johnson was born and raised in Los Angeles. In high school he stood only 5-9, and barely played on his high school team. There were no schools recruiting him to play college ball. However, after high school he had a growth spurt, which coincided with the development of his game, as he continued to play ball, and work part time jobs.
The coach at Harbor Junior College in Los Angeles saw Johnson playing pickup ball, and urged him to enroll in the school. Johnson did, and despite getting kicked off the team a couple of times, he began to improve.
He ended up getting a scholarship to Pepperdine University. In his only year at the school he averaged 17 points per game, before declaring himself for the NBA draft. He was selected in the second round of the 1976 draft by the Seattle Supersonics.
Johnson prided himself on knowing his opposition, and taking away the things they would like to do. If you were a scorer who loved to go right, DJ was going to make you have to go left. If you like to shoot the ball from the right wing, he was going to make you shoot it from somewhere else.
He made a name for himself when he led the Sonics to the NBA title in 1979, in which he was named the MVP. After spending three years in Phoenix, where he led the Suns to two Western Conference semifinals, Johnson was traded to the Boston Celtics in 1983.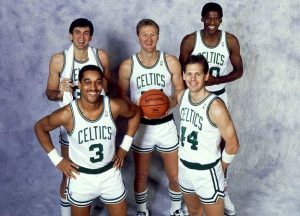 His style was perfect fit for the Celtics, which had the hall of fame front line of Larry Bird, Kevin McHale and Robert Parrish. DJ was the man who made that team click. He was always making subtle contributions, finding the open man, coming up with key baskets, clutch stops, and timely steals.
Many feel that Johnson's defense on Los Angeles Lakers' 6-9 Magic Johnson was the key to the Celtics winning the 1984 title in seven games. After losing to the Lakers the next season, Johnson was again a catalyst in their 1986 NBA title, as they beat the Houston Rockets 4-2.
Johnson retired after the 1990 season with three NBA titles. He worked as an assistant coach, and was coaching the Austin Toros in the NBA Development League when he died suddenly in 2007. He was inducted into the basketball hall of fame posthumously in 2010. Check out DJ in action.
Comments
comments