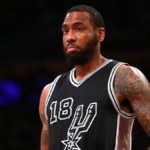 Our thoughts and prayers go out to the family of former NBA player Rasual Butler and his wife, Leah LaBelle Vladowski. The couple died in a single-car crash Tuesday in Los Angeles. Butler was 38, and his wife, 31.
A native of Philadelphia, Butler played his college ball in his hometown at LaSalle University. He was selected in the second round of the 2002 draft by the Miami Heat.
The 6-foot-7 Butler was never a big star. However, he was a reliable professional. Butler was the type of player you could put in the game and know he would be solid on defense, and have an understanding of what to do on the offensive end. He was also versatile enough to play the shooting guard and small forward positions. He played for eight different teams during his 13 seasons in the NBA.
Butler's wife was an R&B singer who appeared on American Idol back in 2004.
Comments
comments