Notice
: Undefined offset: 1 in
/var/www/wp-content/themes/jnews/class/ContentTag.php
on line
86
Notice
: Undefined offset: 1 in
/var/www/wp-content/themes/jnews/class/ContentTag.php
on line
86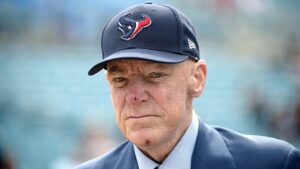 By Rickey Hampton, Editor and Founder of The African-American Athlete
Robert McNair doesn't seem to know that black folk perfectly understand the game he is trying to play. The Houston Texans' owner is in full back-peddle mode after saying "We can't have the inmates running the prison," while commenting over the current state of player activisim in the National Football League.
McNair, like all 32 NFL owners, and NFL commissioner Roger Goodell, secretly want the NFL players to just shut up, stand for the flag, and play football.
They only claim to be concerned about the issues of justice that many of the players, mostly black, with the notable exceptions of men like Chris Long of the Philadelphia Eagles, are addressing.
Be assured McNair's 'Inmates' statement is how he really feels about the NFL players. Not only that, let's be clear that he was aiming at the black players, before he went into the same old, tired "I didn't really mean it," routine. However, I am not going to waste time telling you about McNair's apology, because I know he doesn't mean it.
And, anyone who believes he does  is a naïve.
"I think the comments were disrespectful, I think it was ignorant, I think it was embarrassing," said Duane Brown, the veteran Texans' guard. "I think it angered a lot of players, including myself. We put our bodies and minds every time we step on the field. To use an analogy of inmates in a prison, I would say they're disrespectful."
 One of the silver linings behind this current president's racial rhetoric is that we are seeing the true colors of some people. They feel if the racist president can attack ethnicities, so can they. And it is clear that more than a few people harbor a real animus towards black people.
Consider just a few of these incidents from the current football season.
In Detroit, a man had his season tickets revoked when he posted a picture of a black couple sitting during the national anthem in Week 1 of the current NFL season.  He called the couple 'ignorant niggers,' and then tried to deny that he didn't, before finally confessing that he posted the vulgarity.

Paul Smith, a fire chief in Pittsburgh said he added Steelers head coach Mike Tomlin to the 'list of no good niggers' following the Steelers pre-game protest.  
Earlier in the season Texas A&M coach Kevin Sumlin got hit with a 'nigger' taunt in a vulgar, letter from a s0-called Aggie fan after his team blew a big lead in a 45-44 loss to UCLA.
These, and other examples, tells us that when you are black, people never let it go. They see your blackness before they see anything else, and often times seeing your blackness is enough to judge you.
And although McNair didn't use a racial slur, his intent was just the same.
His comment is right there with the 'Empty Barrel" comment by White House chief of staff General John Kelly, when he slandered congresswoman Fredricka Wilson with a pack of  lies.
The problem here is that although we know the racist game these people are playing, we are not fighting back with vigor.
The case with McNair is a classic example. According to reports, the Texans considered a mass walkout of practice. They considered it, but they didn't do it.
Until athletes can get an understanding of the power they have as a whole _  which is immense _ and understand that merely  'considering' an action is not the same as going through with an action, people like Robert McNair will continue their reign.
Comments
comments