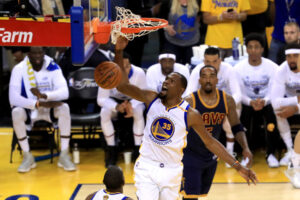 By Rickey Hampton, Editor and Founder of The African-American Athlete
Round 1…check that, Game 1 of the 2017 NBA Finals goes to the Golden State Warriors. The Warriors pounded the Cleveland Cavaliers 113-91 Thursday night at Oracle Arena.
The game was in essence the opening round of a series that is the NBA version of the epic Ali-Frazier boxing trilogy. This is the third meeting, and rubber match, between these two NBA heavyweights, with each team having won one.
And the Warriors landed some heavy shots, and sent the Cavs' a message. This is a better team than the one that won 73 games last season, and blew a 3-1 lead in the Finals.
What is clear is the addition of Kevin Durant is a significant upgrade for the Warriors. His scoring and playmaking was the difference in Game 1. The 7-footer poured in 38 points, and added eight assists.
Durant got plenty of help from Steph Curry, who knocked down six 3-pointers on the way to scoring 28 points. Both Durant and Curry won their matchups with Cleveland's catalysts, LeBron James and Kyrie Irving.
The Cavs were plagued by poor rebounding and turnovers (20 for the game). Tristan Thompson, who killed Golden State in the previous two series with his rebounding was a non-factor. He had four rebounds. That is one reason why Golden State had such success on the offensive backboards (14).
There were also turnovers. James, one of the most efficient players in NBA history, had eight turnovers, which marred his 28 points, 15 rebounds and eight assists.
But how far this series will go will depend upon the adjustments the Cavs are going to make in dealing with Durant. They simply can't allow him to operate so easily.
Golden State got the win. They did what they were supposed to do, they defended home court. But it is nothing more than winning the first  the opening round of a 15-round heavyweight title fight (Yes, 15. We going old school).
Game 2 is Sunday back at the Oracle. It will be interesting to  see how Round 2  goes.
Comments
comments