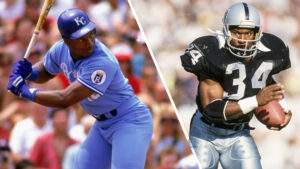 You mean you do know, Bo?
Well, when the conversation starts around who are the greatest athletes ever, Bo Jackson's name is sure to come up.
Jackson was a star in the National Football League (1987-1990) with the Oakland Raiders and Major League Baseball (1986-1994). That was following a spectacular football career at Auburn University (1982-1985) that ended with him winning the Heisman Trophy, and starring on the Auburn baseball team as a center fielder.
Jackson was such a talent on the baseball diamond that the Yankees drafted him in the second-round draft pick out high school in Bessemer, Alabama, in 1982.
However, he decided to pursue football at Auburn University.  Jackson was a superb physical athlete at the tailback positon. At 6-foot-1, 240 pounds, he was built like a linebacker, yet he had sprinter's speed. Jackson actually qualified for the 100 meters in the NCAA track and field championships, and in high school Jackson was the two-time Alabama state champion in the decathalon, despite never having to compete in the 1500 meters.
Jackson was determined to build up such a commanding lead that he didn't need to run the 1500. "Distance is the only thing I hate about track," he said. 
Jackson won the Heisman Trophy in 1985, and was the No. 1 overall pick in the 1986 draft by the Tampa Bay Bucs. Jackson never signed with the Bucs after he and then owner Hugh Culverhouse had a falling out. Culverhouse invited Jackson to take a trip to Tampa, and assured him the visit wouldn't impact his baseball eligibility at Auburn.  Jackson felt the Bucs were trying to force him to choose baseball over football.
Jackson vowed to never play for Tampa Bay, and signed with the Royals. He would go on to hit 141 home runs in the Majors, and become an All-Star. Not only was he a home run threat, but he was a great centerfielder, using his speed to run down potential hits. Jackson also stole 82 bases.
Jackson's NFL career only lasted four seasons and 38 games. A hip injury sustained in a playoff game against Cincinnati in January of 1991, would end his football career, and limit the remainder of his baseball career.
Nonetheless, he left his mark. Jackson rushed for 2700 yards and averaged 5.4 yards per carry, and left football fans with some spectacular highlights. Amazingly, he would return to baseball and play well enough in 1994 to earn the Comeback Player of The Year award. Check out the link below to see Bo in action.
Comments
comments