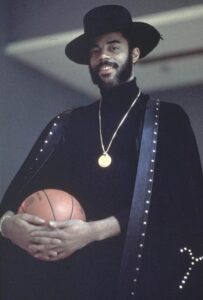 By Rickey Hampton, For The African-American Athlete
[dropcap]W[/dropcap]alt 'Clyde' Frazier should have his own theme music where ever he goes.  The music would have to be jazz, maybe with Miles on the horn, accompanied by the incredible John Coltrane.  The New York Knicks' icon played with that jazzy kind of style and flair during his brilliant, 10-year career in the National Basketball Association.
Frazier  was the essence of cool as a player, a perennial all-star, and a champion.  Off the court,  his nattily attire, affinity for Rolls Royce's, brought swag to the NBA.
Frazier was a silky smooth point guard, and catalyst of the New York Knicks NBA championship teams in 1970 and 1973. Standing 6-foot- 4, he orchestrated  the dazzling Knicks' offensive attack that played with the rhythm, beauty, and syncopation of a jazz quintet.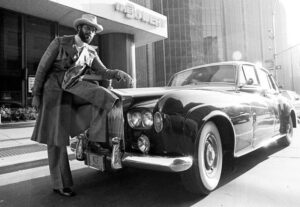 On defense he was like Clyde Barrow, the legendary bank robber, from whom Frazier got the nickname 'Clyde'.   A seven-time All-NBA Defensive Team, Frazier was a lockdown defender. He pilfered passes, and pick-pocketed guards with coolness and guile of a master thief.
Born in Atlanta, Ga., Frazier was a three-sport star in baseball, basketball and football.  In fact, he received several scholarship offers to play football.  As quarterback, many believed that football was his best sport, but Frazier opted for a basketball because there were no black quarterbacks playing professionally.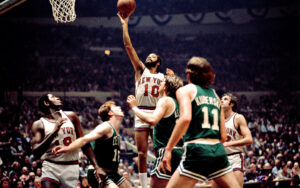 Frazier went on to become a star at Southern Illinois University. The Knicks selected him with the No. 5 pick in the 1967 draft.  If ever there was an athlete that belonged in New York City, it was Frazier. His style and flair on and off the court matched the sophistication of the Big Apple.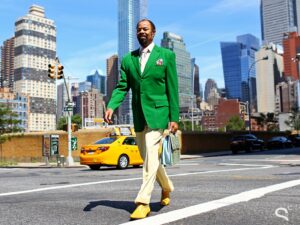 In New York he teamed with a couple of HBCU legends, Willis Reed of Grambling, and Tennessee State's Dick 'Skull' Barnett, along
with Bill Bradley, Dave DeBusschere and gangly Phil Jackson, who would later become a legendary coach.  They would become key components of their 1970 championship team, and later joined by another HBCU legend, Earl 'The Pearl' Monroe, who would pair with Frazier in the backcourt to win the 1973 NBA title.
Enjoy the video of Frazier linked below:
Comments
comments