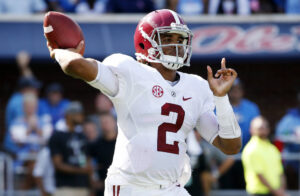 By Rickey Hampton, Editor and Founder of  the African-American Athlete,
You may have read a recent post on TheAfricanAmericanAthlete.com regarding Alabama quarterback Jalen Hurts, who was the victim of racial slurs on social media following the Tides' loss to arch-rival Auburn in the regular season final. 
Hurts, a sophomore, has only lost two games in two seasons for the Crimson Tide, who are again in the hunt for yet another national title.
Nonetheless, Hurts' accomplishments haven't been enough for him to avoid being the victim of racial slurs on the internet from so-called Tide fans.  It makes you wonder, who would call a 19-year-old kid a 'nigger' for losing a game.
A recent interview by Vice News with a group of Roy Moore supporters before the recent senate election in Alabama gives us stunningly breathtaking insight to the depth of ignorance, and arrogance, that many people have regarding race in America, and especially in Alabama.
 Moore did go on to lose the race to Doug Jones.  However, despite credible accusations of improper relationships with young girls, and Moore's racist rhetoric (such as muslims shouldn't be allowed to serve in public office), Moore was still able to garner 48 percent of the vote in Alabama. 
And, while the interview is not an accusation against any of those people for using racial slurs, it does give you an idea where that mindset comes from.Click the link to connect to the video. https://youtu.be/HjLMAoejW-A
Comments
comments