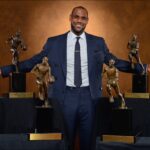 By Shaquille Hill and Rickey Hampton, For TheAfricanAmericanAthlete.com
LeBron James' decision to sign with the Los Angeles Lakers was arguably the biggest story in America over the weekend. Of course, that shouldn't come as a surprise considering that James is one of the most marketable athletes of his generation. In fact, he may be the most marketable athlete of his generation.
Perhaps the only thing that is more impressive than his prodigious basketball skills is his extraordinary business acumen. James has earned $233 million in salary during his 14-year career. But more than that, unlike any other superstar athlete before him he has negotiated contracts that allow him more flexibility than anyone before him. He was able to opt out of Cleveland (twice) and Miami (once). No professional athlete has ever had more control of his career than James.
As a businessman, he has earned nearly $200 million with deals and investments in restaurants, music and entertainment ventures.  With that in mind, it makes perfect sense to look at James' decision to leave Cleveland for Los Angeles as a business move, first, and a basketball move, second. If winning a championship next season was his main goal there were teams with stronger foundations in place than the Lakers
However, this is about more than basketball for James, who at 33, is entering the twilight of his career. This was an act of an athlete/businessman/activist looking beyond the court into life after basketball. You can be sure that having Magic Johnson, who is a master business mogul in his own right when he isn't running the Lakers, at his side will help him as he switches from his Lakers' uniform into his business suit.
Meanwhile, the Lakers see their $154 million investment in James as an opportunity to win championships. Johnson is sure to use James as his No. 1 recruiting tool to bring stars to the Lakers. Spurs forward Kawhi Leonard wants to play in L.A., and that will likely happen this year or next. James' presence automatically improves the Lakers' young core of Lonzo Ball, Brandon Ingram and Kyle Kuzma. Can they beat the Warriors? Not yet, but it will stunning if they are not title challengers very soon.
It's fitting James would end up in Los Angeles. While many have compared his game to Michael Jordan, James' philosophy of 'pass first' is more along the lines of Magic's basketball philosophy.  And we've already touched on their successful forays into business, in addition to James' activism and philanthropy. And in the same fashion that Johnson has spoken on social issues for almost thirty years, James is already having a massive impact. Imagine what impact he will have in LA.

James has long said his career is more significant than basketball. This is his chance to not only win a ring as a Laker and join Kobe Bryant, Magic, Kareem Abdul-Jabbar, Shaquille O'Neal, Wilt Chamberlain and many others as champions in Purple and Gold, but to also cement his legacy as one of the most impactful athletes of all time.
LeBron is ready. Showtime is back, and another Laker wants his legacy is waiting to be forged.
But let's not forget that for LeBron James, this is bigger than basketball. This is business, man.
Comments
comments