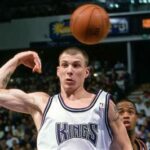 How much fun was it to watch Jason Williams play?
Let's just say lots and lots of fun.
Williams, who turns 43 today, was the No. 7 overall pick in the 1998 draft by the Sacramento Kings out of the University of Florida.  While Williams never became a great NBA player, he indeed had his moments.
Williams had a solid career, averaging 10 points and six assists per game in 13 seasons while playing for six different teams. 
He was the point guard for the Miami Heat when they won the 2006 NBA title with Shaquille O'Neal and Dwyane Wade.

However, what made Williams' career memorable was his spectacular playmaking ability. 
He saw the floor as well as anyone who has ever played the game, and his ball handling and passing skills were just amazing.  He earned the nickname 'White Chocolate' because he played with the flair and style of some of the great black playmakers of the past. Just click the link.

Comments
comments