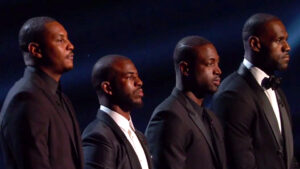 By Rickey Hampton, Editor and Founder of The African-American Athlete
Do you remember when LeBron James, Chris Paul, Carmelo Anthony and Dwyane Wade stood up at the 2016  ESPY's, and challenged athletes to stand up for what is right. They talked about addressing issues of violence, police brutality and injustice.
The NBA stars talked about the black athletes of the past, and how they were unafraid to speak out on issues of injustice. They talked about continuing a legacy of activism from black athletes and others that goes back to the days of Paul Robeson nearly 100 years ago. Chris Paul said this:
"..Generations ago, legends like Jesse Owens, Jackie Robinson, Muhammad Ali, John Carlos and Tommie Smith, Kareem Abdul-Jabbar, Jim Brown, Billie Jean King, Arthur Ashe and countless others, they set a model for what athletes should stand for. So, we choose to follow in their footsteps."
Well, these men are asking to step into some giant footsteps. And the case of Colin Kaepernick is a perfect example of how these superstars can stand behind their words.
Remember of the iconic picture of black sports stars from 1967 featuring Bill Russell, Jim Brown, Muhammad Ali,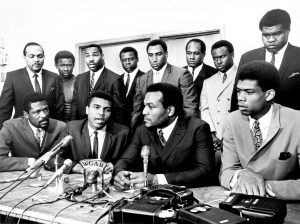 Kareem Abdul-Jabbar and other pro athletes from that era? All of those athletes were in the prime of their careers, during one of the most turbulent times in the history of America. Yet, they put their careers on the line to show their support for Ali, who refused to be inducted into the Army.
A very similar situation occurs today. Colin Kaepernick is being 'whiteballed' by the National Football League for his decision to kneel during the 'Star Spangled Banner'.
It would be a powerful statement for the black athletes of today to come together, and speak out to the world about what is clearly an injustice. Certainly, James, Anthony, Wade and Paul have the power and prestige to do so, even though Kaepernick plays in the NFL. And, most definitely, established black  stars should be at that meeting in support of Kaepernick. The black athlete is what has made the NFL the incredible success that it is.
I would like to see them come together in support of Kaepernick. The power James, one of the most famous athletes in the world today, along with other established superstars from the world of sports, could send a powerful message in support of Kaepernick.
However, we as every day people, have work to do too. If you feel  strongly about Kaepernick's cause, then you should  not go to games, or support any company that does business with the NFL.  That is especially so when you consider the NFL, and its broadcast partner, ESPN, allowed a racist, bigot Hank Williams Jr., to return to the airways, following his rants against President Barack Obama.
Let me be clear, I have nothing but respect for James, and many of today's superstar athletes. Many of them have been giving of their time and talents to important causes throughout communities of color, and the underprivileged.
Nonetheless, I think they can do more.
More importantly, in the case of the ESPY speech, they have vowed to do more.
Comments
comments