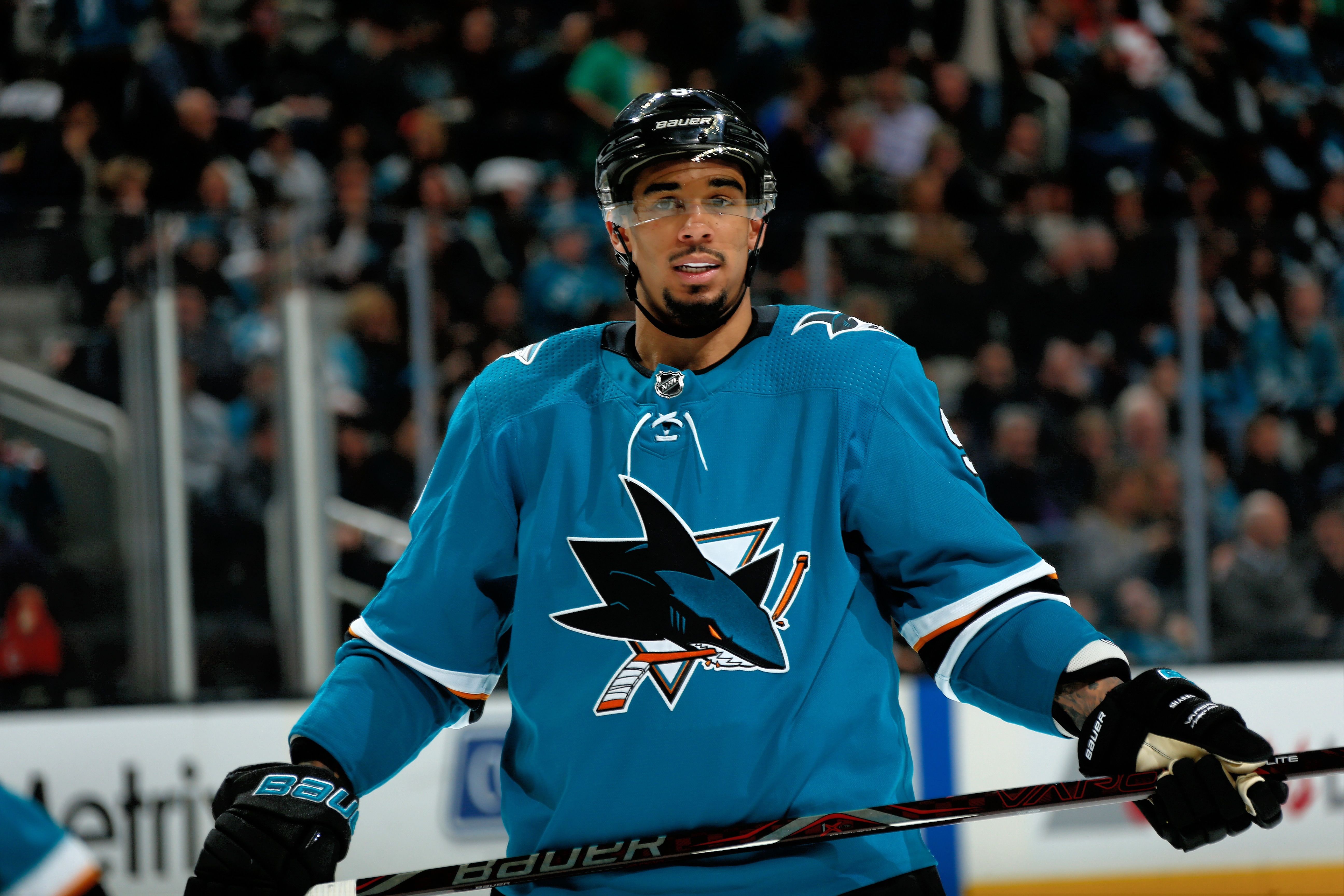 By Michael Roberson, For TheAfricanAmericanAthlete.com
"It's good to have a fresh start at the beginning of the season.  Looking forward to a long season and happy to be here for a long time."  Evander Kane, on playing first full season with Sharks.
Evander Kane became a part of the Sharks organization at the NHL trade deadline, February 26, 2018, in what some thought was a rent-a-player situation since he was an unrestricted free agent at season's end.
However, there was no need for the nine-year veteran player to test the free agency waters, because the Sharks liked his production so much, that they inked him a lofty seven-year/$49 million contract before any other team could grab the left-handed star.
Evander relocated to the Bay Area with perceived "baggage" from his time with the Western New York franchise.  He was accused of allegedly grabbing three women in Buffalo in 2016.  The Canadian pled "Not Guilty" and the charges were subsequently dropped a couple of months later.
Although, in the court of public opinion, some view Kane in a different or negative light.
Be that as it may, Evander has felt very welcomed in the Silicon Valley, and will likely end his career in the Technology Capital of the World.  Although he has hinted that he has 11 more years in him.
Within the few months of Kane's time in "Sharks Country," he reached some major milestones and firsts.
His first ever "Hat Trick"–he actually put four biscuits in the basket–came against the Calgary Flames, March 16.  The 2018 Stanley Cup Playoffs were the first ever for Evander.
During Kane's initial postseason experience, he scored four goals and totaled five points in the nine games.  He was suspended for one game for a cross-check.
The team's journey ended by the hands of the miraculous Las Vegas Golden Knights, who were exceeding expectations as a first-year expansion team.
Although the Sharks' season ended in disappointing fashion, Evander, 27, is focusing on a clean slate:
"Training camp started, Day 1, moving on.  That season's [2017-18] in the past; we're just looking forward to getting through training camp, and the start of the regular season.," Kane said"
Kane has really ingratiated himself with the Bay Area fans and others, as he has participated in various activities during the offseason.
He played in the ex-Warriors player, JaVale McGee's celebrity softball game, in the Oakland Coliseum.  The event is to help McGee's hometown of Flint, MI, and their ongoing water crisis.
Evander also took part in viewing several of the competitions at the nearby Sonoma Raceway, attended a Raiders game, concerts, and etc.
"So many great opportunities here.  So many different teams here in the Bay Area that support one another.  It was fun to be a part of some of the summer activities I was up to.  I look forward to continuing to do so for a long time."  Kane elaborates on his involvement with the community and fellow athletes.
The hockey superstar may be living his best life right about now, and it can potentially get better throughout the duration of his contract.
Evander Frank Kane was born August 2, 1991, in Vancouver, British Columbia, Canada, and entered the world surrounded by a very athletic family.
His father, Perry, was a nice hockey player (Chocolate Rocket) in the Junior A league, and then transitioned into an amateur boxer.  The "Sweet Science" was apparently very influential to his life, as the Nova Scotia native, and his wife, Sheri, named their son after American world champion boxer, Evander Holyfield.
Evander Kane actually met his namesake later in life, and on occasion, put his pugilistic skills to use on the ice, whenever involved in a scuffle.
Besides passing down athletic skills to his prodigious son, "Daddy" Kane also disseminated sage advice to his oldest offspring about playing hockey and/or just living as a Black Man in the "Great White North," or other parts of the world.
Evander has experienced some of the scenarios his father probably warned him about, and it's even heightened on a different level than a generation ago, due to the advent of the Internet and social media.
The "Bad Boy" image that has followed him throughout his career, may be intertwined with racism, as he and several of the other prominent black players in the NHL will have their own stories to tell how vile things are said and hurled at them from either in the stands, on the street, or cyberspace.
Kane recently had photo opts with two NHL pioneers: Willie O'Ree, the first black player in the history of the 100-year-old major ice hockey league, and Val James, the first American born black player to lace up the skates on the big ice stage.
Evander also made history himself in 2009–to the absolute pleasure of his so proud dad–when he was the National Hockey League's highest ever drafted black player (#4 overall) by the Atlanta Thrashers.  He held on to that distinct position for four years, until Seth Jones equaled his accomplishment (#4 overall) when the Nashville Predators selected him in the 2013 draft.  Jones became the highest American born player to reach that plateau, his father (ex-NBA player, Ronald "Popeye" Jones) was also very proud.
Kane's mother, Sheri, also brought some athleticism into the picture, as she was a volleyball star and played some quality basketball herself.  He has several other family members involved in sports at all levels, including his younger sisters, Brea and Kyla.
Evander has taken his talents to several cities in the United States, as well as the Provinces of Canada during his pro career.  It started in the culturally rich Atlanta Georgia, then back across to the border to Winnipeg, Manitoba, followed by a trek back to the States to Buffalo, New York, and finally cross-country to the epicenter of the Tech World in San Jose, California.
The next and maybe most important milestone of his career would be hoisting Lord Stanley's Cup at the end of the season, finally bringing a major sports title to Santa Clara County.  To be fair, their city neighbor, the San Jose Earthquakes, have won two Major League Soccer titles in the early 2000's; however, that's not one of the Big Four sports leagues (NBA, NFL, MLB & NHL).
EK9 has at least seven more years to try to accomplish this feat, but only time will tell if a ring will come to fruition.  In the meantime, he maybe needs to utter the slogan: YES WE KANE!
Comments
comments