Notice
: Undefined offset: 1 in
/var/www/wp-content/themes/jnews/class/ContentTag.php
on line
86
Notice
: Undefined offset: 1 in
/var/www/wp-content/themes/jnews/class/ContentTag.php
on line
86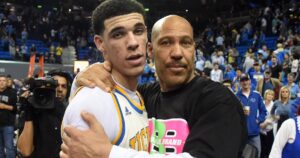 By Rickey Hampton, Editor and Founder of The African-American Athlete
It seems that basketball aficionado LaVar Ball has excelled at the most important thing a father can do for his children.
He loves them.  In addition, he provides for them. And it seems he has been involved in every aspect of their life.
A lot of people want to give him credit for that, which I understand.  But the reality is LaVar Ball is only doing what he is supposed to do as a man.  Some of us have gotten to the point in the society when we congratulate people for doing what they are supposed to be doing in the first place.
And, who can blame the man for trying to take advantage of the opportunity that is in front of him? Ball's son, Lonzo, is expected to be a lottery pick in next month's NBA draft.
After being turned down by the sneaker establishment of the basketball industry, Ball has produced, and introduced, his own basketball shoe.
And you can have your very own pair for the price of $495.
I don't know what marketing classes Ball may have taken when he averaged two points a game at Washington State and more power to Mr. Ball if he can cultivate a market that is going to gobble up his shoes. But I don't see it.  In fact, I don't see his brand of marketing _ being loud, braggadocios, and coaching from the stands _ as being an effective method of selling basketball shoes.
To a lot of people, instead of being a brand, Ball has been a joke. Of course, when you average two points a game in college, and say you could destroy Michael Jordan, people are going to laugh at you.
That said, anything is possible these days.
Donald Trump is a bigger joke than Ball, and doesn't know a damn thing about the world, and he became the president.  That in itself tells you there are a lot of gullible people in the world who will believe damn near anything.
This will be different. I just know there are a lot of parents who are going to be turned off by not only the price, $495, but Ball himself. And while his son is an extremely talented player, he has done nothing after a season at UCLA to warrant a $500 sneaker.
At least when Michael Jordan sells his overpriced Nike shoes, he is selling his standard of excellence as arguably the game's greatest player.
But I will say this, Ball has the right idea. He is trying to do his own thing, and shake up the business of professional basketball. He is trying to dictate his terms, and maximize his opportunity.
Unfortunately, I just think he is going about it the wrong way.
Comments
comments