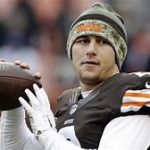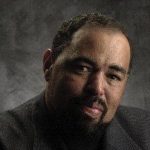 By Rickey Hampton, Editor and Founder of TheAfricanAmericanAthlete.com
Now ain't this a joke. Sadly, I am not surprised to hear that former Cleveland Browns quarterback Johnny Manziel is drawing more interest on the free agent market than Colin Kaepernick.

Apparently, NFL personnel people see more potential in Manziel _  a former first-round draft pick by Cleveland in 2014 who drank, partied, and played himself  out of the NFL _ than Kaepernick, a former Pro-Bowl quarterback, who  led the San Francisco 49ers to the Super Bowl.

According to reports, Manziel had 13 teams interested enough to watch him work out. Meanwhile, Kaepernick doesn't seem to even be able to get a look. 
Manziel, to his credit, seems to see the hypocrisy himself. He sent out a series of tweets declaring his respect and admiration for Kaepernick, while also explaining why their two situations are different.
The man they called Johnny Football is absolutely right that, by the way.
He is benefitting from white privilege, through no fault of his on. Meanwhile, Kaepernick is being hurt because some people feel he is on a black power trip. 
Now, Let's be abundantly clear. I have no problem with Manziel, who has dealt with mental health and drug and alcohol issues. I wish the young man nothing but the best.

The problem here isn't Manziel, but those who are giving him an opportunity while turn their backs on Kaepernick. The 30-year-old quarterback who played collegiately at Nevada has done nothing wrong, and has played better than most of the NFL quarterbacks on rosters today.
All Kaepernick has ever been 'guilty' of is expressing his first amendment rights for justice and equality for all people, in addition to being a citizen philanthropist for righteous causes.

Oh, and never mind how badly Manziel played when he did get on the field in Cleveland. He was an embarrassment. Meanwhile, Kaepernick has performed efficiently and consistently throughout his career.

But, then again, Kap has a big afro, and he has tats, and he is not afraid to speak to the hypocrisy that exists in America.

And Johnny Football? Well, he just wanted to party. But now he has made his mind up that he suddenly wants to play. Of course, Johnny Football can do that. He is a white guy, who was just confused and mixed up. Kaepernick is the black guy who wants to play quarterback, and be like Malcolm X. 
The NFL would much rather have a former party guy with issues of drugs and alcohol, instead of a man standing for justice and equality for all.

This is absolutely disgusting.

The NFL should be ashamed of itself. But we all know ain't no shame in the NFL's game.

Comments
comments