Notice
: Undefined offset: 1 in
/var/www/wp-content/themes/jnews/class/ContentTag.php
on line
86
Notice
: Undefined offset: 1 in
/var/www/wp-content/themes/jnews/class/ContentTag.php
on line
86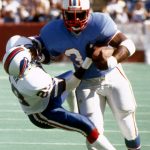 When the conversations come up about the best running backs in the history of the NFL, rarely do you hear Earl Campbell's named mentioned.  He was the No. 1 pick in the 1978 draft, after winning the Heisman Trophy at the University of Texas, by the then Houston Oilers (who are now the Tennessee Titans).
His arrival in Houston helped turned the Oilers, coached by Bum Phillips, into a championship contender.  Campbell, 5-foot-11, 245 pounds, was a combination of speed and never seen before power.  As you will see in the highlight tape that is linked below, Campbell was a punishing runner who could run over linebackers and defensive backs seemingly at will, and also have the speed to outrace them to the end zone.  Campbell was a five-time Pro-Bowl selection, won three rushing titles, and regarded as the best running back in the NFL for much of his career.
Unfortunately, his bruising running style took a toll on his body.  Campbell only lasted eight seasons, spending the last year and half of his career in New Orleans, where he wasn't the same back.  His running style took an enormous toll on him physically, and now he has developed severe arthritis and has trouble walking at times. 
This once powerful man is an example of the toll the game of football that we love takes on a body the man they called the 'Tyler Rose', after his hometown of Tyler Texas, the rose capital of the world.
Comments
comments