Notice
: Undefined offset: 1 in
/var/www/wp-content/themes/jnews/class/ContentTag.php
on line
86
Notice
: Undefined offset: 1 in
/var/www/wp-content/themes/jnews/class/ContentTag.php
on line
86
By Roscoe Nance, For TheAfricanAmericanAthlete.com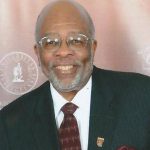 So much for the dreaded sophomore jinx that was could have afflicted Howard University quarterback Caylin Newton.
The younger brother Carolina Panthers quarterback Cam Newton, a former NFL MVP, is following up a scintillating freshman season that saw him earn MEAC Rookie of the Year honors with a dazzling sophomore campaign. He has passed for 1,280 yards – tops in the MEAC— through four games, including a 439-yard, three-touchdown effort in a season-opening loss at Ohio University. Newton has also amassed 1,531 yards total offense with 532 coming against Ohio, to lead the conference in that category as well. He is No. 3 in the FCS with 320.7 total yards per game, No. 25 in passing yards and tied for No. 25 with 10 touchdown passes.
Newton burst on the scene last season by leading the Bison – 45 point underdogs – to an improbable 43-40 victory against UNLV in the 2017 season opener. The Associated Press said it was the biggest upset in a game with a point spread in college football history, and it was the Bison's first win against an FBS program.
Newton went on to establish himself as the top dual-threat quarterback in the MEAC. He amassed 3,185 yards total offense to become the first freshman in conference history to surpass 3,000 total yards in a season after being named the Bison's starter just days ahead of their season opener.

"I didn't know what to expect,'' Newton says, thinking about his expectations of himself last season. "It was really a shock to me. I wasn't shocked that I started, but I was really shocked in the moment. It was like 'now I'm finally here.' I earned the starting job. I wasn't given it. It wasn't time to sit back and be proud. I wasn't there yet.
So it wasn't like I could relax and enjoy the moment of being the starter. It was 'I'm the starter, we got to play UNLV,' I had to get my mind right real quick. The last game I played was a second round (high school) playoff game. It was a big jump to FBS level competition.''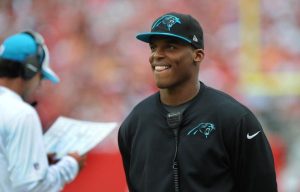 Newton made the jump as easily he might clear a crack in the sidewalk. Newton's fingerprints were all over the win against UNLV. He had 330 yards total offense – 190 rushing and 140 passing. His four-yard touchdown run midway through the fourth quarter, his second of the game, provided the margin of victory. He also threw a touchdown pass.

The win against UNLV set the table for a turnaround season for Howard as finished 7-4 and in a three-way tie for second in the MEAC. It gave the Bison their first 1-0 start since 2012, which was their last winning season; they were 7-4 that year as well. It was also a catalyst for Newton, who was named to the all-conference second team and MEAC Rookie of the Year.

Newton's accolades and accomplishments are in the past, and Coach Mike London says his quarterback is intent on keeping them there.
"Beating UNLV was a springboard,'' London says. "It was a tremendous confidence booster. But you have to come to play every Saturday. It was one of those once in a lifetime experiences that you will never forget having made college football history by overcoming the biggest point spread deficit in college football history. It's something you take with you, but it's not going to help you win games this year. It's a other year and it's what have you done lately for me. He has done a great job of really helping to get himself into position to help his team again this year.''

Last year's success has Newton – and all Bison – aiming for bigger and better things in 2018.

"That's our motto,'' he says. "We want more; 7-4 is not good enough.''
The Bison, tabbed to finish second in the MEAC in preseason polls, are a half-game behind North Carolina A&T and Florida A&M, both unbeaten in conference play, and will need some help to claim their first MEAC title in 25 years. Howard suffered its first conference loss in a gut-wrenching 40-35 loss to North Carolina Central Saturday despite a 381-yard, three-touchdown effort by Newton. The Bison play Florida A&M at home on Nov. 3, but they don't they don't play North Carolina A&T, the reigning conference and Black College champion. Florida A&M and North Carolina A&T play Saturday in Greensboro, N. C. A Florida A&M victory against the Aggies coupled with a win for the Bison against the Rattlers in November is Howard's best hope for at least sharing the crown.

Newton, who has emerged as the early leader in the race for MEAC Offensive Player of the Year, threw for 2,432 yards last season and rushed for 753 yards, second on the team. He is confident he can improve on those numbers and become a more complete quarterback.
"I have to become more balanced,'' he says. "At the beginning of the season (last year) I was a runner. Toward the latter part of the season I was more so a thrower. As a freshman I didn't know how long the season was and how beat up my body would be. If I can find that balance of learning how to play smart, get down when I need to,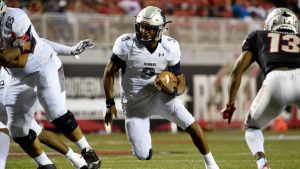 run out of bounds, I can use my throwing ability early instead of relying on my legs, I'll be better off.''

Newton had hoped to sign with an FBS program out of high school, but he didn't get any offers. He announced he would attend Howard three days before London was hired.
"It was a big leap of faith,'' Newton says of his decision to sign with Howard not knowing who his coach would be. "My dad (Cecil Newton) did research on Howard. He pointed out all the notable alumni. It was one of those God guided me type of things. The positives of Howard and all those things came into play. It overwhelmed me and surpassed any other University and I just went with it.''

Cecil Newton was a controversial figure in his older son Cam's decision to sign with Auburn following his junior college career. London says the elder Newton made no demands nor did he come with preset conditions.

"There were no issues about playing time or this or that,'' London says, adding that there had been some talk of the using the younger Newton at safety since the Bison had also signed quarterback Ramar Williams, a highly regarded transfer from Navy Prep who had been the Maryland High School Player of the Year, to take advantage of his athleticism.
"It was just about the support he had for the program.''

Williams suffered an injury in preseason practice, and Newton leapfrogged him.

"Caylin started to distance himself with not only what he could with his legs, but also his arm and how we could spread the field and utilize his skill set,'' London says, adding that he never anticipated Newton having the type of season that he did. "He only knew as the practice went on and the season unfolded that we had something special; our style of offense fits his skill set. Both things fit together.''

In addition to his skill set, London raves about the progress as a quarterback overall.
"Caylin has done a great job in motivating himself to be a better football player,'' he says. "His football IQ has improved tremendously. Last year, a lot of things that were done were done to try to minimize the issues that his youth and inexperience might have caused. But over the course of the year, toward the end of the season and into the spring he has done a good job of learning the offense. More things are going to be entrusted to him such as calling plays at the line of scrimmage and all those things. He has really developed into being a good leader and a good player.''

London adds that Cam Newton, the 2010 Heisman Trophy winner, has had a positive effect on the younger quarterback's development.
"It helps that he comes from a family that has the type of sounding board that he can talk about different challenges and issues and gets sound advice,'' London says.
The younger Newton performance last season helped him emerge somewhat from his brother's shadow. But he is still known primarily as Cam Newton's brother in some circles.

"I don't even notice it anymore,'' he says. "I don't think people understand Cam has been my brother since day one. He's just Cam. Of course, the hype and attention comes with it, but I've been dealing with it my whole football career.''
The younger Newton says his brother's advice to him is, '"Man, just be the best you that you can be.'''

"He never has any doubts about me,'' Caylin Newton says. "He understands I'm a strong person; I don't get distracted by 'Cam this; Cam that.'. It's definitely pressure, but I don't dwell on it.

Newton acknowledges, "We're always competing,'' adding "I'm not trying to be like him – for what?''
Caylin Newton is listed generously at 5-11, 195 pounds while Cam checks in at a legitimate 6-5, 245.It would be fool hearty for him to compete with his brother in terms of trying to do the things he does on the field. But all bets are off in other areas,

"We're definitely competitive,'' he says. "My whole family is competitive as far as working. If you look at social media, he works out 3-4 times a day. I have to level up to that. One thing I try to maintain is his work ethic. I do drive toward keeping up. This is all year; we go back and forth. It's like we don't have time to rest. That's the competitiveness that we have. That keeps each of us on top.''
(Roscoe Nance is an award winning journalist for the Columbus (Ga.) Ledger-Enquirer, Jackson (Miss.) Clarion-Ledger, and USA Today. He co-host of the 'Express Yourself with T-Ramone and 'Sco' podcast with veteran sports writer Tim Turner. You can hear their podcast live on Wednesday's at 8 p.m. EST by listening on your cell phone at 929-477-1209. The internet link is available on Wednesday's at The African-American Athlete Facebook page. Mr. Nance can be reached at: scomobile@aol.com)
Comments
comments