Notice
: Undefined offset: 1 in
/var/www/wp-content/themes/jnews/class/ContentTag.php
on line
86
Notice
: Undefined offset: 1 in
/var/www/wp-content/themes/jnews/class/ContentTag.php
on line
86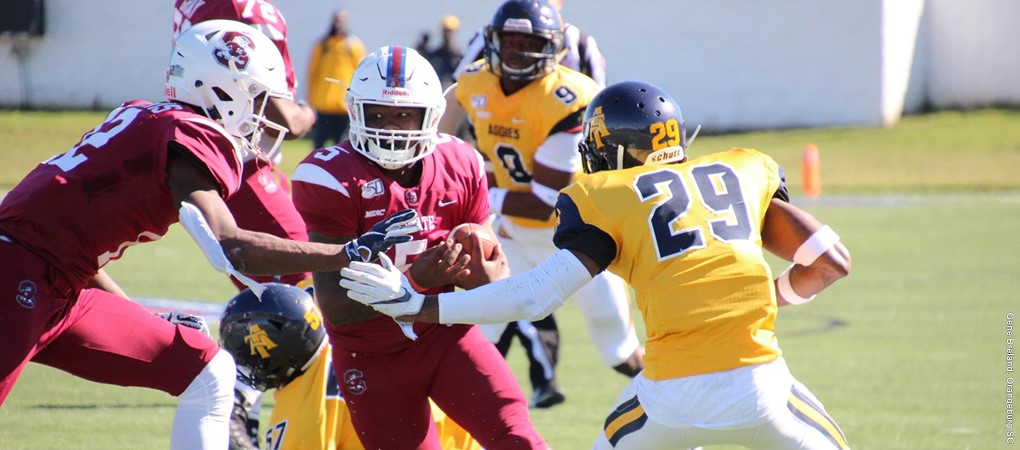 By Roscoe Nance, For TheAfricanAmericanAthlete.com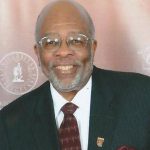 North Carolina A&T State, the two-time defending Black National Champions and MEAC champions, showed its championship mettle Saturday, slipping by rival  South Carolina State 22-20 in what in effect might have been an elimination game in the MEAC title race.
Both teams entered the contest with one conference loss, the same as both Bethune-Cookman. Florida A&M is unbeaten in conference play, but the Rattlers are ineligible for the championship and the Celebration Bowl berth that goes with it. With that scenario as the backdrop, Saturday's loser would likely be the odd man out in the title chase.
The Aggies spotted South Carolina State a 10-0 lead before scoring 22 unanswered points that appeared to be a knockout punch. However, Bulldogs regrouped with a 10-point burst but were unable to come all the way back.
The Aggies (6-2, 4-1 MEAC) won even though South Carolina State (5-3. 3-2) held their top offensive weapon, running back Jah-Maine Martin in check. Martin, the leading rusher in the MEAC with 138 yards a game yard, and who was averaging an FCS best 8.7 yards a carry, only gained 67 yards.
But the Bulldogs had no answer for quarterback Kylil Carter. The senior completed 21 of 38 passes for 267 yards, all career highs, and touchdowns, to lead the Aggies.
"That guy has the heart of a lion," North Carolina A&T coach Sam Washington said. "He has so much fight in him, it's amazing to watch. I thought he threw the ball extremely, especially when we really needed him. He did great on play-action and the (run-pass-options). Perhaps we should have gone vertical a little more as we look at things in hindsight. But I thought he did what we asked him to do for the most part."
Dillon Bredsen's 23-yard field goal and a two-yard touchdown run by Labron Morris staked South Carolina State to a 10-0 lead in the first half. The Bulldogs controlled the ball and dominated time of possession in the first half, but they only led 10-9 entering the third quarter.,
North Carolina A&T's defense sparked the Aggies' comeback. Kylin Howard tackled South Carolina State quarterback Tyrece Nick in the end zone for a safety, and Martin scored on a five-yard run to get the Aggies on track. Carter tossed a four-yard touchdown pass to Korey Banks and Noel Ruiz booted a pair of field goals to give the Aggies a 22-10 lead.
South Carolina State responded with a 49-yard touchdown pass from quarterback Corey Fields, who alternated with starter Nick, to DeMontrez Burroughs early in the fourth quarter. Bredesen added a field goal later in the quarter for the final points of the game.
Fields threw for 284 yards while completing 14 of 30 throws. But he had a critical interception in the fourth quarter when the Bulldogs were in a position to take the lead.
Key Games
Southern 35, Alabama A&M 31 – The Jaguars emerged with a heart-stopping home SWAC victory thanks to quarterback Ladarius Skelton's late-game heroics. Skelton threw a two-yard touchdown pass to Hunter Register with 28 seconds left to give Southern (5-4, 4-1) the win.
Skelton had a game for the ages. He rushed for 238 yards and two touchdowns and threw for 198 yards and two more scores. Quarterback Aqeel Glass was brilliant in defeat for Alabama A&M (5-4, 2-2 SWAC). Glass threw for 356 yards and four touchdowns.
The loss was a severe blow to the Bulldogs' hopes of unseating five-time defending SWAC East champ Alcorn State. They must win their remaining three games and hope that Alcorn loses its last three contests since the Braves hold the head-to-head tie-breaker.
Savannah State 53, Fort Valley State 24 – The Tigers used a pulverizing ground game to overpower the Wildcats to secure a home win and clinch the SIAC East championship. The victory also assured Savannah State (6-3, 5-0 SIAC) of its first winning record since 1998.
The Tigers are in their first season back in the SIAC after competing in the Division I MEAC for the past two decades. The Tigers ran for 375 of their 450 total yards. They rushed the ball 57 times. D'Angelo Durham led the Tigers with 148 yards; D'vonn Gibbons had 145.
Bowie State 65, Lincoln (Pa.) 20 – The Bulldogs clinched their second straight CIAA North title and fourth in five years with a home victory. Bowie State (9-0, 6-0 CIAA) had 406 total yards while using three quarterbacks. Bowie State is the only undefeated team among HBCUs.
Key Performances: 
DeAndre Johnson, QB Texas Southern – Passed for 351 yards in a 55-20 loss to Grambling State.
Juwan Carter QB, Norfolk State – Threw for 314 yards and accounted for four TDs in a 48-0 win against Morgan State.
Xavier Smith, WR, Florida A&M – Had 184 receiving yards and four TDs in a 52-30 win against Delaware State.
Rayquan Smith, RB, Norfolk State – Rushed for 142 yards in a 48-0 win against Morgan State.
Sydney Gibbs, RB, Shaw – Rushed for 133 yards and two TDs on 16 carries in a 21-0 against Winston-Salem State.
Tracy Scott RB, Albany State – Rushed for 133 yards and one TD on six carries in a 21-15 win against Morehouse. 
Shermar Bridges, WR Fort Valley State – Caught seven passes for 129 yards in a 53-24 loss to Savannah State.
Kennedy Ill, WR, Jackson State – Caught three passes for 119 yards and one TD
in a 21-12 win against Arkansas-Pine Bluff.
Deshaun Wethington, RB Chowan –Rushed 20 times for 117 yards in a 28-21 loss to Virginia State.
Steven Hodges WR Tuskegee – Caught four passes 112 yards and one TD in a 27-26 win against Edward Waters.
Demetrius Strickland, RB, Virginia State – Rushed for 112 yards and one TD on 12 carries in a 28-21 win against Chowan.
Chris Rowland, WR, Tennessee State – Caught six passes for 100 yards and one TD in a 32-13 loss to SE Missouri.
SWAC
Alabama State 27, Miss. Valley 0
Grambling 55, Texas Southern 20
Southern 35, Alabama A&M 31
Jackson State 21, Arkansas Pine-Bluff 12
MEAC
FAMU 52, Delaware State 30
North Carolina Central 28, Howard 6
Norfolk State 48, Morgan 0
CIAA
J.C. Smith 28, St. Augustine's 17
Virginia State 28, Chowan 21
Virginia Union 26, Elizabeth City 19
Bowie 65, Lincoln (Pa) 20
Shaw 21, Winston-Salem 0
Fayetteville State 32. Livingstone 0
SIAC
Tuskegee 21, Edward Waters 21
Benedict 31, Clark 7
Miles 17, Kentucky State 0
Albany St. 21, Morehouse 15
Lane 36, Central State 10
Savannah St. 53, Fort Valley 24
Comments
comments