Notice
: Undefined offset: 1 in
/var/www/wp-content/themes/jnews/class/ContentTag.php
on line
86
Notice
: Undefined offset: 1 in
/var/www/wp-content/themes/jnews/class/ContentTag.php
on line
86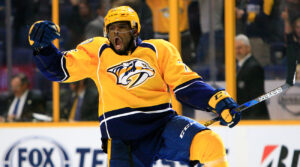 By Christian Bliss, For The African-American Athlete
In a league where 95 percent of the players are white, one black defenseman managed to flip the hockey world on its head by playing the game with amazing skills, uncanny control, while exhibiting a booming, yet accurate shot.
His name? Pernell Karl (P.K.) Subban. He is a 6-foot tall gem of a hockey player, who plays the game with the power and speed of a freight train. And, he has an astute killer instinct, with pizzazz to boot.
Subban's expressive personality, and in-your-face style of play, hasn't always been received positively by even his own team, although his on ice production has infused a level of enthusiasm and joie de vivre the entire league desperately needs. P.K. is one of just 20 black players in a league of about 700 players. He is certainly not the first black player of this generation, but can be credited as the first to fully marinate the game of hockey in an afro centric cultural stew, on and off the ice. P.K. Subban's parents immigrated to Canada from the Caribbean, so as you can imagine his upbringing was a bit different than the "prototypical" hockey player.
The unwritten rule in hockey is to blend in.
Mr. Subban embraces his own star power instead. He walks with, and talks with, a certain swagger. He is extremely confident. He is playful. He is joyful, well spoken, and polite. He is smart and self-aware, and more importantly he understands the importance of branding.
That level of understanding was part of the problem with his former team, the Montréal Canadians, but was that all?
Why don't we take a look to see what else was behind it. Without giving you a detailed account of P.K. Subban's NHL story if you aren't familiar with it, know this: he loves scoring goals – he really, really loves scoring goals.
He celebrates every goal with an archery inspired gesture, as if to indicate that he's shooting out the lights which drew the ire of his own coach, even though his theatrics are beloved by the fans.
Is P.K. the only player to ever celebrate his goals with such flair? Of course, not.  Is he the only player to ever receive backlash for his post goal antics? Certainly, not.
However, he is among a select few players in the National Hockey League where such a backlash was based on his outer appearance, the color of his skin. For example, in May of 2014, Subban scored an overtime goal against the Boston Bruins in the second round of eastern conference playoffs. In PK fashion the goal was celebrated with his signature move, the bow and arrow – that caused Bruins fans to erupt in a fit of racist rage, reminiscent of a young Mark Wahlberg. Yes, that Mark Wahlberg.
Bruins fans took to Twitter to cuss him with racial slurs and expletives. Subban handled the ordeal with grace of course, continuing to battle his own organization in the process where his contract negotiation was more contentious than some felt it needed to be.
He kept dazzling and competing as hard as he could try to end a 22-year drought for the most successful franchise in NHL history. However, the Canadians inexplicably traded Subban to Nashville last year to the dismay of their own fan base.
In Nashville, Subban has endured racism as highlighted by racist tweets from St. Louis Blues fans last year. Things took an even weirder turn when a white, NBC analyst Mike Milbury, called him a clown for dancing to pregame warm-up music before a playoff contest. Amid all the racism and unfair treatment of this phenomenal hockey player at the hands of fans, teammates, executives and coaches, he trekked on. His new club improved from last year's second round loss against the St. Louis Blues, to an NHL Finals showdown versus the Pittsburgh Penguins.
Pittsburgh is the favorite to win the cup as the defending champion, and if you know anything about the region you are fully aware that the city of Pittsburgh isn't exactly a Mecca where black culture is revered and loved. In fact, it is one of the most segregated cities in the United States.
How will P.K. be received by Penguins fans? We will find out soon enough, but win or lose he is already one of the most influential pioneers in the history of black athletes in pro sports.
I wholeheartedly support him, and invite you to cheer him on in his quest to inscribe his name on Lord Stanley's Cup, as well as the NHL's history book.
Unity is our strength. Spiritual support is unity manifested in the form of pure energy. We may not know him personally, but through our shared consciousness, the same force that animates and connects all life we can help guide him to even more success in a sport where the odds are stacked against him.
Comments
comments