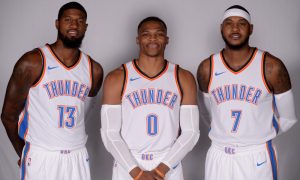 By Sope Eweje, For The African-American Athlete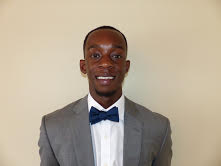 If there were ever an NBA season to prepare yourself to think "Oh yeah, I forgot he plays for them now" every time you watch a game, this might be the one.
The offseason was full of moves for most teams, some looking to continue acquire and develop young talent in order to make championship runs in the future, others investing in veterans and proven stars to take a shot at a ring this season.
But despite all the big names that will suiting up for different teams when the season starts less than 3 weeks from now, only a few are truly better positioned to challenge the Cavs' and Warriors standing atop the NBA. Here's a recap of the summer's biggest signings and trades, and what they mean for the upcoming season:
PG makes a pit stop on his way to LA
The Indiana Pacers made a smart move by trading Paul George to the Oklahoma City Thunder in exchange for Victor Oladipo, a nice addition at the 2-spot, and Domantas Sabonis, a young big man with huge upside as a scorer and rebounder.
Why was it smart to trade a 4-time all-star for not that much in return you ask? Because he's going into the final year of his contract and the Pacers were virtually guaranteed to lose him in free agency next summer and get nothing in return. But the Thunder could be destined for the same fate if they fail to compete in the West this season, given that George has previously said that he would love to sign with his hometown Lakers in free agency. He offers a skill set that is similar in many ways to former OKC star Kevin Durant: size with the ability to shoot from outside and attack the basket, with a long, disruptive presence on the defensive end.
The addition of Paul George, along with another star in Carmelo Anthony, may certainly make the Thunder the best placed team to end the Warriors' reign of the West.
Melo joins a competitor for the first time
After years of having to say he's happy without a ring because he hasn't played for a team that could compete for one, Carmelo Anthony finally has his chance to take a serious shot at an NBA title. In a trade that sent bigs Enes Kanter and Doug McDermott, as well as a 2018 second-round pick, to the New York, the Knicks were finally able to make happen what any Knicks fan would tell you was a long time coming. Though there was talk (and almost finalized deals) to send Anthony to the Rockets or Cavs, both the Knicks organization and Melo's camp are likely happy that his time in New York has come to a close.
As said before, this could be something big for the Thunder. Yes, Carmelo is a defensive liability, but that's not why he's wanted in OKC: he's there to score. With defensive specialists Steven Adams, a 7'-0" bruiser inside, and second team All-Defensive selection Andre Roberson at guard rounding out a starting 5 that will feature 3 all-stars, it's impossible to ignore the potential this team has for success.
Lebron and "the kid" part ways
When asked about Kyrie Irving's departure during his media day interview, Lebron James referred to the Kyrie Irving as "the kid" four times.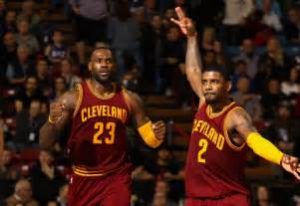 Intentional? Probably. Deserved? Probably. A strange amount of passive-aggressiveness between two grown men? Most certainly.
Kyrie's handling of his exit from Cleveland wasn't the most graceful to say the least. But as a basketball move, it makes sense for both teams: the Celtics got their point guard of the future in Irving and the Cavs acquired a number of assets (20-year-old big man Ante Zizic, a 2018 first-round pick, a 2020 second-round pick) along with a star point guard in his own right in Isaiah Thomas.
This trade doesn't change anything about the Eastern Conference: these two teams that finished atop the conference last season and are likely to do it again. Who will come out of the conference remains to be seen.
The Celtics get their guy
Kyrie Irving wasn't the only big pick-up the Celtics had this offseason: all-star small forward Gordon Hayward signed a 4 year max deal to join the Boston Celtics after leaving the Utah Jazz in free agency. In Hayward, the Celtics are getting a versatile player on both sides of the court around which they can begin to build a frontcourt, which has been their main area of weakness the last few seasons. Not to mention that they've brought together Hayward and his former college coach Brad Stevens, a duo that had great success during their time at Butler. The 27-year-old forward is quietly one of the emerging stars of the NBA and will definitely be one of Boston's greatest assets moving forward.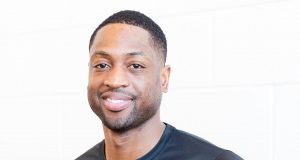 Dwyane Wade forces an inevitable Lebron reunion
This was about the most predictable move of the offseason. As soon as the season ended we started hearing rumors of disgruntled young Bulls wanting see Wade leave the team, and the veteran Wade was more than happy oblige. This week, the 3-time NBA champ agreed to $8 million buyout with the Chicago Bulls and signed a 1yr/$2.3 million veteran-minimum contract with the Cleveland Cavaliers. It couldn't have happened any other way; this reunion between long-time friends and excellent teammates has been coming since Lebron left the Heat. Don't be fooled by the low sticker price: Dwyane Wade is still legitimately one of the best 2-guards in the league, despite being in the twilight of his career. His signing makes the Cavs all the more dangerous to opponents.
Houston trades half a team for Chris Paul
There's a comedian who once made a joke about how NBA players should aim to never be one of the guys traded with a bunch of guys for just one guy in return.
That seems to be the story of the Chris Paul trade. The L.A. Clippers parted ways with Chris Paul in a trade for F Sam Dekker, C Montrez Harrel, G Darrun Hillard, G DeAndre Liggins, G Lou Williams, F Kyle Wiltjer, and a 2018 first-round pick from the Houston Rockets. That's 7 players, if you count the draft pick.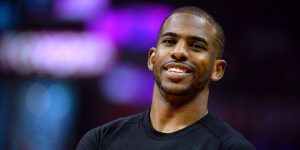 Getting rid of every single one of them makes sense for the Rockets, however. In Chris Paul, Houston is getting a talented floor general who can alleviate some of the ball distribution burden placed on James Harden last season and help the team become even more efficient on the offensive side of the ball. Though their (currently) subpar frontcourt seems to make the Thunder and Spurs better suited to challenge the Warriors in the West, the Rockets will certainly make some noise this season and going forward.
Thibodeau and Butler, together again
This was probably the most head-scratcher move of the offseason. It was a no brainer for the Timberwolves, to trade an injured Zach Lavine, turnover-prone and low-efficiency scorer Kriss Dunn, and unproven big Lauri Markkanen, a 2017 draft pick out of Arizona, for 3-time all-star Jimmy Butler and Justin Patton, their 2017 draft pick out of Creighton. But like many others, I was left wondering "What were the Bulls thinking…?". This is still unclear, but what is clear is that arguably the league's best shooting guard will be reunited with the coach that led him to stardom and partnered with one of the NBA's most daunting young cores. Should teams be scared of the Timberwolves now? No. Three to five years from now? They'll be quaking in their boots.
Those are just 7 of the biggest moves that will have a significant impact on the outcome of next season. Get a full list of all the NBA offseason moves here
Comments
comments