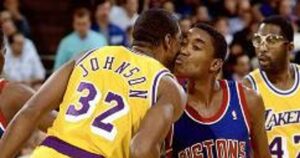 By Rickey Hampton, Editor and Founder of The African-American Athlete,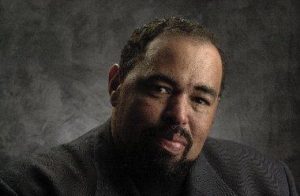 There is a great lesson to be learned by watching the recent interview on NBA TV's 'Player's Only Monthly,' featuring a conversation between Isiah Thomas and Magic Johnson.
It is a lesson of forgiveness and grace. It is a reminder how it is never too late to make amends with the people you love and care for.

Thomas and Johnson are two of the greatest players in the history of the NBA. In their own way, they were transcendent players. Johnson demonstrated that a 6-foot-9 point guard could run an offense with spectacular results. Meanwhile, the 6-1 Thomas showed us how a little man could dominate a big man's game.
Johnson and Thomas were once the greatest of friends, and it's so easy to see why. They had a love for basketball, and a love for life with effervescent personalities. And in many ways, their lives parallel.
The two men are champions. In college and the pros. Johnson led the Michigan State Spartans to the 1979 NCAA title. Two years later Thomas led the Indiana Hoosiers to the NCAA title.
Johnson was the No. 1 overall pick of the Los Angeles Lakers. Along with the great Kareem Abdul-Jabbar, he led the Lakers to NBA title in his rookie season (1980). Johnson would go on to win five championships in his illustrious career.

Thomas was the No. 2 overall pick by the then lowly Detroit Pistons in 1981. He immediately began the resurrection of the once dormant franchise.
Thomas would eventually lead the Pistons past the Celtics and Lakers, who dominated the 80's. The Pistons made it to three consecutive Finals, losing to the Lakers in their first appearance in a dramatic seven game series in 1988, before avenging them the following season in 1989, and winning again against Portland in 1990.

However, as the Pistons began to get better, and finally become a championship caliber team, Johnson was forced to choose between his friendship with Thomas, and his commitment to the Lakers.

When he greeted Thomas with a forearm shiver as he headed to the basket in Game 4 of the 1988 Finals, Johnson let his choice be known.

It was team before friendship. It had to be that way. 
"We had an incredible relationship," Johnson said. "We used to do everything together back in the day, and then that kind of faded. It was a tough period. Probably when we played those two championships made that happen. Then it just really went in opposite directions from then."

From that moment on, the relationship began to deteriorate.

When Johnson announced in 1991 he had contracted the HIV virus, he was hurt by rumors of Thomas questioning his sexuality. It is important to note that Thomas vehemently denied saying anything along those lines.

Later, Johnson ripped Thomas in a book, "When The Game Was Ours" saying no one wanted him on the 1992 'Dream Team': "Nobody on that team wanted to play with him. Michael [Jordan] didn't want to play with him. Scottie [Pippen] wanted no part of him. [Larry] Bird wasn't pushing for him. Karl Malone didn't want him. Who was saying, 'We need this guy?' Nobody."

However, as the years have gone by, the anger and the discontent has subsided. There were simply far too many wonderful moments to overshadow the down times. The two legends sat down face to face, and made amends.

"My wife, my mother, my father have been saying y'all need to get back together," Johnson said to Thomas. "So when everybody called, I said no question we're going to do this.

"And just to sit across from you and relive those moments of fun, excellence, working hard, dreaming big. You are my brother," Johnson added. "Let me apologize to you if I hurt you….that we haven't been together. God is good to bring us back together." And with that, the two men shared a tearful embrace.
Linked is a video excerpt from their emotional reunion.
Comments
comments