Notice
: Undefined offset: 1 in
/var/www/wp-content/themes/jnews/class/ContentTag.php
on line
86
Notice
: Undefined offset: 1 in
/var/www/wp-content/themes/jnews/class/ContentTag.php
on line
86
Notice
: Undefined offset: 1 in
/var/www/wp-content/themes/jnews/class/ContentTag.php
on line
86
Notice
: Undefined offset: 1 in
/var/www/wp-content/themes/jnews/class/ContentTag.php
on line
86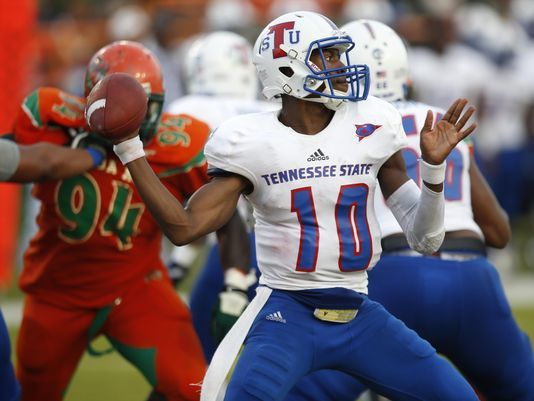 This story appeared in the Afro-American Newspaper following TSU's 14-12 win over the No. 1 ranked Florida A&M Rattlers. This game was significant for two reasons. It convinced TSU fans that first-year coach John Merritt was the right man for the job, and the TSU defense held Bob Hayes, the fastest man in the world, to negative 20 yards rushing.
The Florida A&M-Tennessee State rivalry renews this weekend in Tallahassee, Florida.. That is one  of the great rivalries of Black College football. Acutally, check that. FAMU-TSU is one of the great football rivalries, period.
It is a series that over the years has featured outstanding teams playing in sold out stadiums, and great coaches like TSU's John Merritt, and FAMU's Jake Gaither, who each built their respective programs to legendary status. And you can't talk about these two universities without mentioning their  spectacular bands,  FAMU's Marching 100, and TSU's Aristocrat of Bands.
One of the greatest games in this rivalry occurred in 1963, at TSU's sold out W.J. Hale Stadium. The top-ranked, unbeaten, Rattlers arrived in Nashville led by  Bob Hayes,  known as 'The Fastest Man In The World'.  Hayes was  just month's away from winning a Gold Medal in the 100 meters at the 1964 Olympic Games in Japan. He blew away the field, running a 10.5 and setting an Olympic record.

But Hayes was also an outstanding football player for the Rattlers. He was virtually unstoppable, and he entered the TSU game averaging 11-yards per carry.
"Man, he could run," said Leon Moore, a defensive back for the Tigers at the time. "I remember he had flown up here for a track meet and smoked everybody in the hundred (100 meters), then got back on a plane, and went back to Florida. I mean, he was fast."
But this would be the game that TSU fans knew they had something special in their new coach.  Merritt, who was in his first year at TSU after coming over from Jackson State University,  brought along Joe Gilliam Sr. as his defensive coordinator,  and  Alvin 'Cat' Coleman as his offensive coordinator.  All three were destined for Hall of Fame coaching careers.
Gilliam noticed a tendency in the Rattlers' offensive attack.
"Coach (Joe) Gilliam noticed  what they did with him was pretty easy to read. FAMU didn't throw the ball much, because they really didn't have to," Moore said.  " That allowed us to really concentrate on their run game. He saw that if Bob Hayes lined up on the right side, they were gonna run left. If he lined up on the left side, they were gonna run right.
"All they were doing was trying to get him to the edge. If he got the edge on you, nobody was gonna catch him. Sure enough, that is exactly what they did with him.  Every time they gave it to him, we were there to smother him. We were not going to let him get to the edge."
TSU held Hayes to negative-20 yards rushing.  It was a stunning performance that old school TSU fans still talk about today. But even with the job the TSU defense did on Hayes, the Rattlers were still leading late in the game.
That is when  TSU freshman Nolan 'Super Nat' Smith, returned a punt 83-yards for a touchdown in the waning moments, The play sealed the Tigers' 14-12  victory. In  essence, that was  the start of the 'Big John Merritt' Era at TSU.  In Merritt's 23 years at TSU, the Tigers won seven National titles, and sent dozens of players to the National Football League.
TSU's 14-12 victory over Florida A&M in 1963 was the start of a magical run for Merritt and the Big Blue Tigers.
Hayes may have been shutdown on that evening at TSU, but he went on to have an extraordinary career.  He became a  Hall of Fame  wide receiver for the Dallas Cowboys. He had a big impact on the way defense was played in the NFL.  Hayes is the only athlete to win an Olympic Gold Medal and a Super Bowl. The video posted below has highlights of Hayes. He also talks about how he forced NFL defenses to start using zone defenses.
Comments
comments