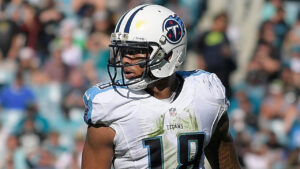 By Rickey Hampton, Editor and Founder of The African-American Athlete
I am going to be honest, I had no idea who Rishard Matthews was until the other day. However, the Tennessee Titans wide receiver is now one of the my favorite players in the National Football League. Matthews, whose brother died in Afghanistan, said he plans to kneel during the national anthem until the current president, who recently referred to NFL players who kneel during the anthem as 'Sons of Bitches,' apologizes for his attack.
Matthews, a six-year veteran,  also plans to donate $75,000 to organizations that are addressing the issues of injustice and police brutality that his former teammate, Colin Kaepernick, began this entire movement with last season. Matthews comes from a military family. His father served and his brother, Christopher Ruiz, was a marine who was killed while serving in Afghanistan two years ago.
"Moving forward, I don't want this to be a publicity stunt," said Matthews, speaking to  said,  ESPN. "I don't want to take away from what the whole protest is about, which is oppression, police brutality and inequality in this country. I fully stand with my brother Kaep [unemployed quarterback Colin Kaepernick], and I plan to continue to do that." Click here to hear Matthews explain his stance.
Comments
comments