Notice
: Undefined offset: 1 in
/var/www/wp-content/themes/jnews/class/ContentTag.php
on line
86
Notice
: Undefined offset: 1 in
/var/www/wp-content/themes/jnews/class/ContentTag.php
on line
86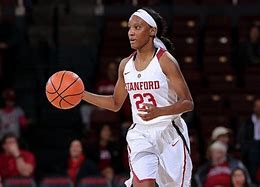 By Michael Roberson, For TheAfricanAmericanAthlete.com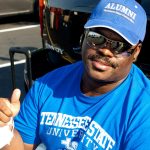 Kiana Williams' amateur basketball career went full circle, at least geographically, as she and her Stanford Cardinal teammates won the 2021 NCAA Women's Basketball Tournament over Pac-12 conference foe, Arizona, in her hometown of San Antonio, Texas, April 4 (Easter Sunday), as well as receiving an early birthday (April 9) present.
The month that is known for showers continued to shine for Williams. On April 15, she was drafted in the second round (18th overall) of the 2021 WNBA Draft by the defending champion Seattle Storm.
Although this assumed storybook ending seemed like a wonderful fairytale dream scenario, there were some nightmarish moments throughout the season, as well as how the previous year's campaign ended unceremoniously due to Covid-19.
The Nomadic Cardinal were "Road Warriors" for a large segment of the season due to the Santa Clara County halt on athletic activities.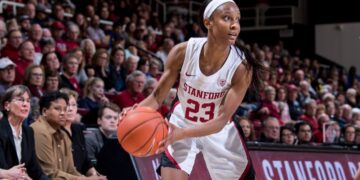 Covid not only affected Williams' squad but the Stanford's Men's team, and neighboring colleges, San Jose State and Santa Clara University.
The professional teams of the Silicon Valley were also impacted: The San Francisco 49ers (Levi's Stadium – Santa Clara and the San Jose Sharks were both relegated to Arizona while the mandate was intact.
Stanford had to play makeshift home games in Las Vegas and nearby Santa Cruz (Kiana's teammate, Haley Jones; hometown), as well as subsequent road games abroad.
Four years before this unprecedented season, there was an All-American Five-Star player in Texas garnering a multitude of basketball accolades, in addition to academic awards. Both talents made her perfect for the "The Ivy League of the West" school, Stanford University.
Williams grew up in an athletic family, with her father, Michael, being a former star linebacker at the Historically Black Texas Southern University. In addition to Dad, she had three older brothers (Chancy, Michael & Javion) to look up to for athletic guidance.
Chancy was a running back at Abilene Christian after a stellar high school career. He was an integral component of a state championship team (Judson) in the ultra-competitive state of Texas.
Kiana emerged as a star basketball player in a football-crazy state. San Antonio actually had WNBA teams (Silver Stars & Stars) coexisting with the NBA's Spurs. From 2003 – 2017, girls in the Alamo City had someone who looked like them locally on the professional level for future aspirations.
While Williams was on her way to the "Golden State" in 2017, the San Antonio Stars were also headed west to the "Silver State." The organization that originated in Utah in 1997, would become the Las Vegas Aces in 2018.
With that latest relocation, the prospect of Kiana playing in the WNBA for or against her hometown pro team was no longer a possibility.
Williams left a legacy in Texas, San Antonio, and in particular, Wagner High School. She was a revered prep All-American on the court, as well as a great student in the classroom and caring volunteer helping the homeless and others. With no more women's pro basketball in the city, it wasn't certain if she would return to her roots in South Texas.
During her four-year matriculation at the Northern California institution, the Science, Technology & Society major started all her games played except nine in her freshman season. Williams' prolific career landed her high on several of Stanford's Women's Basketball lists: She is number one on the 3-point list (311), 10th in scoring (1,834), ninth in assists (464), and second in free throw percentage (83%).
This all happened under the tutelage of legendary coach Tara VanDerveer. The NCAA Women's Basketball All-Time winningest coach (1,125) enjoyed coaching Williams and had nice words for her after she declared herself for the WNBA:
"I am thrilled for Kiana as she is set to embark on this next chapter in her life," VanDerveer said. "I have loved coaching her over the past four years and am very proud of both the player and person that she has become."
VanDerveer earned her third national championship (1990, 1992, 2021) as coach of the Cardinal (973) and credited her former senior guard for attaining the latest title.
"Kiana's leadership was vital to the team's success this season, helping to navigate us through the most challenging year of our lifetimes. I know that myself, the rest of the program, and our fans across the world are going to be cheering on Kiana's successes in the future, and we know her experience on The Farm has her prepared for anything life could throw at her," added VanDerveer.
After all the trials and tribulations of the season, due to the still-active pandemic, March Madness for the women took place strictly in the San Antonio area. Although Stanford didn't get to play at Maples Pavilion for the traditional First Round of the tournament, Kiana was more than glad to be in her hometown during the basketball extravaganza.
Williams played well the first four games of the tournament, scoring in double-figures in all of them. However, when it was time for the Final Four, she struggled. Was all the pressure of bringing Stanford University another title in her hometown getting to her?
In the semifinal game versus South Carolina, she scored eight points and shot poorly from the field. Still, the Cardinal managed to advance to the championship game against a familiar opponent, Arizona.
The championship game fell on Easter Sunday, and the spiritual senior was playing in the biggest game of her life in the place where it all started – HOME. Williams again had difficulties, only scoring five points and turned the ball over six times, including one in their last possession of the game.
Arizona had the ball down 54-53 with a chance to win it all and spoil Kiana's dream season scenario. Wildcat senior guard Aari McDonald, who already scored 22 points, had the ball in her hands in the closing seconds missed a highly contested potential game-winning shot.
As the final buzzer sounded, Williams was finally able to EXHALE because the hometown girl came back and won a championship on the soil where she was born and raised. Although she didn't play as well as she wanted to in front of her native Texans, she was thankful her understudy, Haley Jones (MOP), and the rest of the team had her back. Jones tallied 17 points and eight rebounds to lead the way to the title.
"I'm extremely grateful for Haley. She's a pro. She's a pro as a sophomore. I feel like she can make a WNBA team right now with her skill set and ability to make plays. She got her three-ball going, so that's going to be huge for her next season," stated Williams.
On the night of the WNBA draft, Seattle Storm Head Coach, Dan Hughes, spoke highly of the draftee, Kiana Williams. He observed her improvement every year, and the fact that she learned so much from a legendary coach was a significant factor in them selecting her to join their championship team.
Although Mid-May will be when Kiana Williams achieves her dream of playing in the WNBA, April is still the most memorable month for her: She was born that part of the year, won a national championship, and was drafted into the ultimate pro basketball league. That Trifecta constitutes a very special timeframe.
Comments
comments