Notice
: Undefined offset: 1 in
/var/www/wp-content/themes/jnews/class/ContentTag.php
on line
86
Notice
: Undefined offset: 1 in
/var/www/wp-content/themes/jnews/class/ContentTag.php
on line
86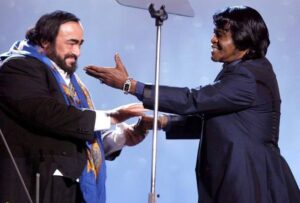 By Rickey Hampton, Editor and Founder of The African-American Athlete
Back in 1979 President Jimmy Carter, of all people, decreed that June would be Black Music Appreciation month. Actually, it really shouldn't be surprising that Carter, a former Georgia peanut farmer, would have any kind of understanding of the black community's contribution to music in America. A good man, Carter spent his life living and working with the black community.
Of course, it is impossible to define precisely what 'black music' is. It has been a fixture in our community from the time slaves ships crossed the seas. Black music's impact if felt in every genere, from gospel, blues, and zydeco, to jazz, country, hip hop and rhythm and blues and soul.
There are literally hundreds of artists one could pick from as an illustration of Black Music. I decided to go with this brilliant performance by the Godfather, James Brown. His performance with the great Luciano Pavorotti demonstrates the Godfather's tremendous talent and range.
Comments
comments