Notice
: Undefined offset: 1 in
/var/www/wp-content/themes/jnews/class/ContentTag.php
on line
86
Notice
: Undefined offset: 1 in
/var/www/wp-content/themes/jnews/class/ContentTag.php
on line
86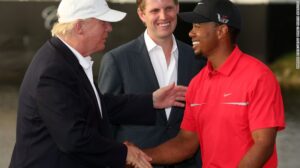 Golf superstar Tiger Woods has put himself in some embarrassing situations in recent years. We know about his marital infidelities and his arrest for driving under the influence.
As bad as those things are, they can happen. After all, nobody is perfect, even one of the greatest players in the history of the sport.
But nothing Tiger Woods has ever done should be more embarrassing than his decision to play a round of golf with the racist, bigoted, sexual assaulter, president.
Woods and fellow PGA Tour player Dustin Johnson joined the racist president today down in Florida.
Woods, who has been the target of racism since he was a kid, apparently thinks it is perfectly fine to play golf with him.
Of course, this is the same guy who calls himself a 'Cablinasian.' And, of course, when the cops arrested him a few months ago they listed his ethnicity as black. Yet, this man still doesn't get it.

Woods, who played a round with President Obama years ago, is free to play with anyone he chooses.
That said, it is fair to consider the character of anyone who would want to play with a man who is a bigot, racist, and brags about sexual assault.
Just when you thought Woods' character couldn't sink any lower, the racist president has brought him down another peg.

Comments
comments