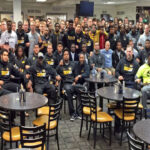 By Rickey Hampton, Editor and Founder of TheAfricanAmericanAthlete.com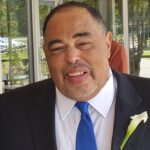 Before you know it the 2018 NFL season will be upon us. It's hard to believe but only a month or so from now teams will be opening training camp and begin preparations for a journey that will end at Super Bowl LIII next year.
Once again, Colin Kaepernick will be missing from the sidelines. That is his punishment from the white NFL ownership for speaking out against hatred and racism in America. It's a really good chance that Kaepernick's former teammate Eric Reid will be without a team, too.
Kaepernick and Reid did the unthinkable by deciding to respectfully kneel during the National Anthem in order to point out issues of injustice inequality in America.  Sad to say, but their chances of playing in the National Football League in 2018 would be better if they had hit a woman.
And now the NFL owners are demanding that player's stand during the National Anthem before games, or stay in the locker room.
There have been so reports that perhaps that some NFL players are going to stage some form of protest to show their disgust with the obvious decision to 'white ball[ Kaepernick and now Reid, and to continue to address the issues of justice and inequality.
Now, asking these athletes to put their livelihoods on the line is more than a notion. You have to understand that they are all operating on a limited amount of time in terms of earning power (the average NFL career is 3-years). So, to ask a young man who may not have that long to earn the kind of money you can make playing pro football to give that up is asking a lot.
That is why if the NFL players decide to take on this issue, it should be led by the established stars. It is those players who have earned been able to surpass the 3-year career average, earn their NFL pension, and stack some nice contracts over the years. 
iOne of the most important stories of this century is rarely mentioned these days. Remember the courage and unity of  the University of Missouri football team as one of the most important photographs in American sports.
It represents the essence of athletics:  Brotherhood, unity, courage, and determination.  And it took all of those intangibles for the Missouri football team to help make history, as their actions led to the resignation of Missouri president, Tim Wolfe.
I will explain why that picture is so historic in just a moment.   But first, I need to recap what brought all those people together in that picture.
On Saturday evening (Nov. 7th, 2015), 30 African-American members of the Missouri football team _  the 'Missouri 30' is what I call them _  made a courageous decision.
They announced a boycott of all football activities until Wolfe, the president of the University of Missouri, resigned.
Sophomore safety Anthony Sherrils shared the players' feelings via Twitter: "The athletes of color on the University of Missouri football team truly believe 'Injustice Anywhere is a threat to Justice Everywhere. We will no longer participate in any football-related activities until President Tim Wolfe resigns or is removed due to his negligence toward marginalized students' experiences."
They were protesting Wolfe's slow response to a series of racial incidents on the campus, located in Columbia, MO ., a small city of 115,000. Mizzou, has an enrollment of 35,000 students, of which about seven percent are African American.
On September 11, Payton Head, the president of the Missouri Student Association, who is African-American, was verbally assaulted by a group of students in a pickup truck. They shouted "nigger" repeatedly, at him while he walked home.
On October 5, a group of students members of the 'Legion of Black Collegians' was verbally assaulted with chants of "nigger" as they attempted to rehearse a play on the campus plaza.  Black journalism students have also been verbally assaulted and called "nigger", with threats of attacks by the Ku Klux Klan.  Finally, on October 24, a swastika was painted on a campus building in feces.
The 'Missouri 30' felt Wolfe was not responding to the problem.
The athletes used the power they have as performers in the multi-million dollar industry that is college football to make a point on social issues.  The possibility of a team boycotting a football game would cost the university millions.  It was tactic used in the tradition of all the great civil rights movements.  Hit 'em in their pockets, that's what makes them listen.
However, this bold move by the 'Missouri 30' opened them up to the possibility of crushing criticism, retribution in terms of losing their scholarships, or maybe getting kicked out of school, and even more racial hatred.
That is why their courage and conviction should be admired, and respected, even if you don't agree with their issues.
The Missouri 30's act of courage is in the tradition of acts of courage by African-Americans fighting for justice, like Mose Wright, who despite having his life threatened, pointed out the murderers of Emmitt Till in 1955 in Mississippi.
But, here is what makes this story so great, and the picture historic.  The 'Missouri 30' were not left to stand alone. They were joined by most, if not all, of the members of the football team.  That includes the coaching staff led by head coach Gary Pinkell, who could have easily gone in a totally different direction.
After all, these men were trying to fire Pinkell's boss.  However, the 63-year-old coach stood by his team.
The picture of the entire Missouri football team _  faces, black, white, and brown, and all religions, political affiliations and beliefs _ coming together as one, is powerful.
People are going to remember this day and that picture.  It will be as epic as the raised black-gloved fists of John Carlos and Tommie Smith at the 1968 Olympics, and the Cleveland Forum picture from 1967, featuring Jim Brown, Muhammad Ali, Kareem Abdul-Jabbar, Bill Russell, and other prominent black athletes.
The courage and leadership of the 'Missouri 30' are in the tradition of Ali and Smith and Carlos.  It honors the Montgomery Bus Boycott, the Lunch Counter Sit-Ins of the '60s.   It honors the children who went to jail in Birmingham and even Emmitt Till's great-uncle, Mose Wright.
In 1955 Wright, testified at the murder of Till, who was grabbed out of his home in Money, Miss., by Roy Bryant and J.W. Milam., who would go on to brutally murder the 14-year-old kid for allegedly flirting with a white woman.  Wright pointed at Milam and said, "Dar he." He then pointed out Bryant.  Although Milam and Bryant were acquitted by an all-white jury, Wright's bravery is of legend in civil rights lore. The 'Missouri 30' and all the other athletes, coaches, students, and faculty at Missouri paid men like Wright a tribute honor in the quest for racial justice and respect.
The legends of the civil rights movement are proud, today.
Comments
comments