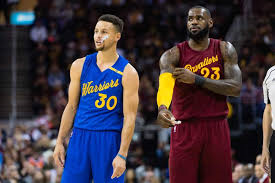 By Shaquille Hill, For The African-American Athlete
The first week of the NBA is in the books. Opening Night saw a close game between the Boston Celtics and the Eastern Conference champions Cleveland Cavs. Meanwhile, the new look Rockets stunned the defending NBA champion Golden State Warriors. What does this mean? Let's find out.
1. While Houston did beat Golden State in a 122-121 shootout, point guard Chris Paul will miss a time with a knee injury. According to Marc Stein of the New York Times, Paul is considered day-to-day, but may miss up to a month.

Clearly, Houston wants to play in late May or early June. No point in rushing him back now. But, we have to wonder: how will this affect chemistry between Paul and teammate James Harden? Houston isn't changing their style of play, so can Paul hang when he returns? We'll see.
I don't expect this to be a big issue early on. But the Rockets don't want this to be a recurring issue throughout the season.The Rockets should be survive with CP3 for a month. They'll still be in contention for the West come May.

2. The Warriors are currently 1-2. Not a massive problem. But I'm more concerned about their defense -which is a known staple ,and the soul of their success.
Golden State gave up eleven first half three-pointers against the Pelicans, and were sloppy handling the ball in the first half. At one point, the Pelicans had 37 points in the first half from players outside of the Twin Towers of DeMarcus Cousins and Anthony Davis.
While the Warriors did go on surge control the game, it never felt like New Orleans was in trouble. The final score was 128-120.
The Warriors lost 111-101 to Memphis Saturday night. The Warriors were just 6-22 in third according to Associated Press. Memphis proceeded to build a 19 point lead and didn't look back. Marc Gasol had 34 points and 14 rebounds, according to the Associated Press.
Kevin Durant and Steph Curry were both ejected in the final minute. The Warriors only had 20 assists, as the Grizzles shut down another Golden State staple – terrific ball movement. The Warriors also had 17 turnovers.
Last season, the Grizzles beat Golden State twice. They also forced 20 assists or less from the Juggernaut In The Bay. Could Memphis' have Golden State's number?

3. Oklahoma City stomped the Knicks in their first game of the season. Yes, it was the Knicks, but OKC's Big Three of Paul George, Carmelo Anthony and Russell Westbrook looked very good. George put up a team-high 28 points, Anthony scored 22 points against his old team, and Westbrook went back to his trouble-double ways: 21 points, 16 assists and 10 rebounds.
Anthony seems to like Westbrook's playmaking ability.
"You guys are used to it. I'm used to watching it,"ESPN reported. I'm used to going up against it. To now be on the other side of that, be on the same team and reap those benefits of what he brings to the game, I'm excited about what we started out tonight, what we created tonight and where we're headed."
Although the Thunder pounced on the Knicks, they dropped a game to the Jazz Saturday. Westbrook had six points and seven turnovers. Anthony scored 22, and George put in a team-high 26. But both men were bottled up by a deep Utah squad. Center Rudy Gobert added 16 points and 13 rebounds.
Can the Big Three in OKC be not only stat stuffers but efficient ones? More importantly can they shut down teams on defense? Efficient ball movement to find open shots will be critical -especially against the Rockets, Spurs and Warriors. If they defend well, they could have a chance at the Western Conference Finals.

4. Can Dwyane Wade find his rhythm?For the first time his legendary career, Wade isn't the # 1 or # 2 option. He's struggled in the first two games, averaging 5.4 points. He's also only taking about nine shots a game.
"My option," Wade told ESPN's Dave McMenamin after the Cavs' 114-93 loss to Orlando Saturday night. "I've always been a [No.] 1 or 2 option. It's just a different game. You got to kind of figure out your way."
The Cavs are without Derrick Rose, who suffered an ankle injury in the team's win against the Bucks. Jose Calderon started, but was pulled after five minutes.
Both LeBron James and head coach Tyronn Lue say getting Wade involved is important.
"Just got to get him in positions to where he's comfortable," Lue said. "Right now we have a new offense, a different offense than he's accustomed to running. We just have to put him in better positions to be aggressive and get to a spot. That's not really an issue of mine or his. Just continue to keep playing good, team defense and his shot and his game will come around offensively."
My question for Cleveland is simple: Can they stay healthy? Rose is hurt ,and Isaiah Thomas is out until about February. Will they have enough time to integrate all those new pieces .
If Wade continues to struggle, I'd imagine J.R. Smith may return to the starting line-up. How could that affect chemistry? For now, the Cavs are still the favorites to secure the East.

5. Can Boston stay at the two seed, without Gordon Hayward? The Celtics only lost by 3 to the Cavs on opening night – after losing Gordon Hayward to a gruesome injury. Kyrie Irving put up a last second heave that could sent the game into overtime.
Boston lost a ton of depth in the trade for Irving -they shipped Thomas and Jae Crowder to Cleveland. However, they still have Al Horford and drafted Jayson Tatum of Duke.
Irving put up 21 points in a 102-92 division win against Sixers. Horford added 15.
They should be able to contend for two seed , but expect Toronto and Washington to fight for it as well.
Boston will develop chemistry to earn a top four seed- but is it enough to top the Wizards and Raptors- especially if Toronto and/or Washington finds a third scorer? For now, I say the Celtics stay at two. Stay tuned.

6. The Bucks hung with both the Celtics and Cavs in the opening week. Giannis Anteokounmpo put up 34 points, eight rebounds and eight assists against Cleveland, despite the 116-97 loss. They did beat Boston, and Anteokounmpo scored 37 points.
While all the attention is on Cleveland and a possible three -way fight between Toronto, Washington and Boston for the two seed, it won't stun me if the Bucks snatch home court advantage for at least the first round.
Anteokounmpo is ready for an breakout MVP type season, and if Jabari Parker can return healthy , the Bucks could be a problem out East. Malcolm Brodgon and Khris Middleton are solid pieces too. Brodgon scored 19 points, while Middleton added 15. If they get that kind of production throughout the season, expect Milwaukee near a top four finish.

7. Minnesota has Jimmy Butler alongside Andrew Wiggins and Karl Anthony -Towns. Can they become a big three and make noise out West? The first test comes against Oklahoma City Sunday night. How will Wiggins, Anthony-Towns and Butler all mesh? Is it a matter of time before they contend with the Big Four of San Antonio, Oklahoma City , Golden State and Houston?

8. The Lonzo Ball era has begun in Los Angeles. After a struggle against the crosstown Clippers, Ball put up a near triple-double against the Suns Friday: 29 points, 11 assists and nine rebounds. He'll have an up and down season on a young team in arguably the biggest city in America. How will he handle the attention?
More importantly, can other players develop? Brandon Ingram hasn't really lived up to the hype, but Kyle Kuzma had a great summer, and it could be a matter of time before he shines in the regular season.
It's all about the future for the Purple and Gold. But with the summer of 2018 fast approaching, Ball and his squad need to look attractive on the court, not just off of it.

This may sound lofty, but if the Lakers win 30-35 games, they'll have a chance at landing a free agent – possibly LA native Paul George. But with George on another contender for Oklahoma City, who else can they attract? I know LeBron will be a free agent, but one has to imagine that he'd want at least five championships -unless LA gets another superstar in the summer, I don't see the Lakers raising another banner.
For now, it's Ball til you fall in LA. What will the Lakers do?
Comments
comments