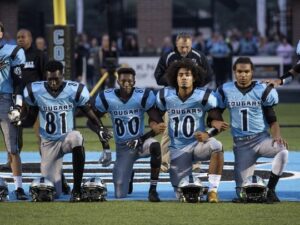 You may remember reading a month ago about the four black players on Lansing (Mi.) Catholic High School football team being punished for taking a knee during the national anthem.
Leading up to the game the four student-athletes _ Michael Lynn III, Kabbash Richards, Roje Williams and Matthew Abdullah _ were threatened with the possibility of being benched, if they went through with their decision to kneel during the anthem.
However, these young men _  actually, kids thinking with the maturity of adult men _ felt demonstrating against racism was worth any punishment they would receive.
"I get they are a private school and they can do what they want," said Lynn III, in an interview with the Lansing State Journal. "They are right, they can. But that doesn't make it humane and that does not make it OK that they can do that because that still is my right to peaceful protest."
"Not only am I peaceful protesting, but I'm protesting as a primary source. I am a young black man in America. I've had to deal with certain things that other people will never have to deal with."
The school decided against benching the student-athletes for an entire game. Instead, they were temporarily benched at the start of the game, but eventually got to play in the game.
The conviction of the four student-athletes to their cause seemed to have opened the eyes of school administrators. Lansing Catholic has decided to address issues of diversity and justice through conversation.
The school has formed a 'Multicultural Student Diversity Group' that will meet on Thursday mornings and afternoons to discuss issues of race.
"Racism is real," said Doug Moore, the Catholic High principal, in an email to parents. "It affects all of us but in different ways. And how do we respond to it — ignore it, fight it, change it?"
Although some may say this is a small victory, it is an important victory as well. Whenever you can get people to discuss the issue of racism it is an important step forward, especially when you see young people step forward. 
Comments
comments